Thrive Through The Holidays Private Coaching Masterclass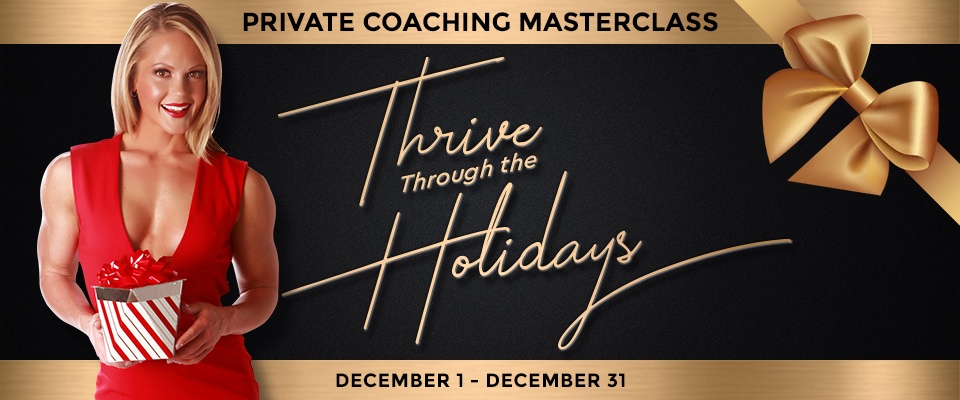 Do you have trouble staying on track with your
goals through the holiday season every year?
Then let me help!
Tell me if this sounds familiar ..
You're on a roll with your workouts and you've been eating pretty well for the past few months. Not super strict all the time, but clean enough to make progress while feeling positive about yourself and the direction you're heading. 
Overall, you feel like you're on track to end this year in a better place than you began it.
You're heading into Thanksgiving week with the best intentions, planning to keep things going through the holidays… 
… but you're feeling anxious about history repeating itself. 
You know,  the history where every holiday season start to gradually fall off the wagon as the festivities and outings pile up  … 
the workouts become less frequent …
the meals become less structured and the extra calories start piling up …
and the drinks start flowing a little more regularly than they were before all of the extra get togethers that accompany this time of year.
And by Christmas you find yourself in the same spot you were a year ago – carrying a few extra pounds, regretting some of decisions you made, wondering how everything fell off track and feeling frustrated with having to start all over again. 
If that sounds like you, trust me  – you're not alone.  
The anxiety we all feel when thinking about losing track of our fitness goals during this season is real.  But it doesn't have to be. 
For the first time ever, I'm offering a private coaching masterclass to help you not only survive, but 
Thrive through the holiday season!
Since I will be customizing everyone's individual plan, this is going to be an ultra-exclusive group limited to the first 20 people who apply.
I'm going to be with you every step of the way, holding you accountable through daily interactive video chats, weekly coaching sessions and adjustments, taking your specific schedule into consideration to formulate a plan that you can follow regardless of how busy you are.
We'll look at your triggers, analyze how and why you fall off track and identify a plan to counteract those before they happen, to minimize the damage and keep you on track.
The goal for these 30 days is not going to be shredded, or to lose a ton of weight, or to refuse to take part in any holiday activities.
The goal is to find balance – to give you a roadmap that allows you to enjoy this time of year, make the most of it, attend the parties, enjoy the family get-togethers and yes  – even a few drinks – while not falling completely off track. 
So you can get through the season feeling great about yourself and start the New Year in a better place than you have in years! 
What You Get
This is an ultra-exclusive private coaching group and I am limiting it to the first 20 people who apply!
√ Custom Nutrition Program for YOU 
I'll create your meal plan and tell you what you should be eating each day, taking your individual history and preferences into consideration. This will NOT be a one-size fits all plan! It will be catered to you, your schedule and YOUR specific goals and and activity level.
 
√ 30-Day Workout Plan 
Everyone in the group will be following the same workouts, and I'll be your coach during it all. We'll all be doing one video workout a week together, and I'll help you with any questions you have.
Want to know if  you're performing an exercise the right way?
Do you need to substitute a few exercises in the workout?
Wondering if you're lifting heavy enough, or challenging yourself enough to reach your goals?
We'll go over it all together each week, so you can make the most out of your time in the gym.
All workouts will be 45 minutes or less, taking all of the time commitments we have into consideration – but that doesn't mean they'll be easy!
√ Daily Video Chats 
You'll get live video messages from me every day for the entire month through an interactive messaging app, where we will be in constant communication. (I use it with all of my close friends and one-on-one clients!) There, I'll be able to answer any questions, offer support and motivation and be your trusted source to help guide you through any issues that come up. 
√ Live Video Calls
We'll be hooking up via group video calls twice each week, including one LIVE workout with coaching feedback, form checks and more to make sure you're making the most of your time in the gym and putting those extra holiday calories to good use. 
√ Private Facebook Coaching Group
As soon as you sign up you'll get an invite to the exclusive Thrive Through The Holidays Private Coaching Masterclass Facebook Group. I'll be on there every day chatting, posting and making sure you have all the support you need to make this holiday season one to remember. Think of it as your own private accountability group!  
You'll also get a personalized Gift Box from me, plus a free 1-month membership to NicoleWilkins.com and access to over 450 of my workouts, hundreds of exercise demonstration videos, blog posts, healthy recipes and more.
Click the button below to apply now and let's make this a holiday season to remember for all the right reasons!