Welcome To My 45 Day Buns & Guns Challenge!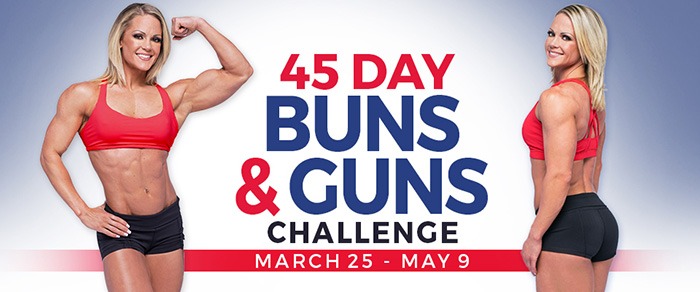 Welcome To My 45 Day Buns & Guns Challenge!
Are you ready to build the arms and glutes you've always wanted? Good, because that's what we're here for!  
This 40 Day Buns & Guns Challenge is a total-body transformation program, with an extra emphasis placed on two main areas – your buns and guns!
The Challenge officially begins on Monday, March 25.
The entire Challenge program will be available for viewing on NicoleWilkins.com on Friday, March 22. You will receive an email from me with instructions on how to access everything when the program is live.
Here are some other important dates, tips and links to keep in mind.
• The entry period for uploading your Before photos and measurements starts on March 19 and ends on March 26.  I will be sending you an email on the morning of the 19th with instructions for taking your photos and the hashtag to hold up.
• At the start of every Challenge, I like to send out my list of Transformation Challenge Essentials.
You don't need all of the items on this list, but they will definitely make your transformation that much more successful!

• For those of you who are on social media, we give out Weekly Prizes every week during the Challenge. We select the winners and announce them by email every week, so make sure you are using these hashtags so I can find you!

#nwbuns&guns
#nicolewilkinschallenge
• If you're looking to chat with other fitness-minded people like yourself before the Challenge begins (or after!) then make sure to check out the Nicole Wilkins Community Facebook group.
It's free to join and it's a great place to find motivation, ideas and support.
Check Out The Facebook Community!
I'm so happy you decided to enter this Challenge, and SO EXCITED to help you reach your goals – let's work together and make it happen!