By Nicole
Following a healthy diet  can be one of the hardest parts of getting in shape. It's also the most important.
Counting calories, weighing your food and making sure you are hitting all of your macros can be confusing, especially if you're new to this type of food focus.
But don't worry! Help is on the way. If you're feeling overwhelmed, here are three really easy things you can do to start eating healthier – and feeling better right now.
1. CUT OUT ALCOHOL
I'm not a big drinker, but I do enjoy a nice glass of wine every now and then (Side not: I used to always drink red wine, but recently I'm preferring whites. Anyone else like that?)
But when I'm on a meal plan to lean out, alcohol is the first thing to go. It's full of empty calories, and I would rather save those calories for food. You know what else?  Because alcohol is a toxin, calories from alcohol take  priority as fuel in the body over other fuel sources. So when you drink, your body's fat burning mechanisms stop until you burn those alcohol calories off.

2. COOK AT HOME
Eating out is fun and most restaurants today have healthier options or will make dishes without butter/oil if you request it. However, to be absolutely sure there are no hidden calories, there's nothing better than making it at home. You can use healthy recipes and be in total control of all of your ingredients to keep your macros/calories on point. Plus, you'll save a few extra bucks!
3. PLAN YOUR MEALS
Preparing your meals in advance and eating at the same times everyday keeps you from making bad choices when you're in a pinch. For example, let's say you're having a busy day and skip a meal or two and find yourself very hungry with no meal prepared. You might just go to the nearest fast food restaurant and have an unplanned cheat meal. Getting into a daily routine with your meals, just like you do with your workouts, is one of the best ways to stay on track.
Looking for more awesome training and nutrition information? Join NicoleWilkins.com for hundreds of workouts, training and nutrition tips, healthy recipes and more to help you transform your body and reach your fitness goals!
ABOUT NICOLE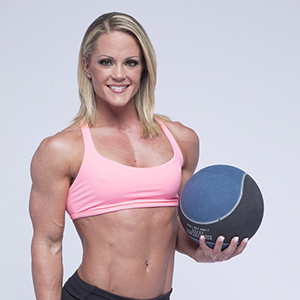 One of the biggest names in the fitness industry, Nicole Wilkins is a world-record holding four-time Figure Olympia Champion and 2012 IFPA Personal Trainer of the Year. Nicole earned her BA in Wellness, Health Promotion and Injury Prevention at Oakland University. The owner and founder of nPower Nutrition, Nicole has helped thousands of people start living a healthier lifestyle and reach their fitness goals.