When I eat out, I usually choose a healthier option from the menu – but even healthier options can still be higher in calories because of some of the ingredients that they choose and/or the amounts that they use.
So when I recently got a Cranberry Quinoa Kale Salad from a popular food chain – which was delicious, by the way – I knew that I could make it healthier. That way I could enjoy it more often, without the worry!
This salad isn't just delicious – it's also beautiful and so incredibly easy to make – enjoy!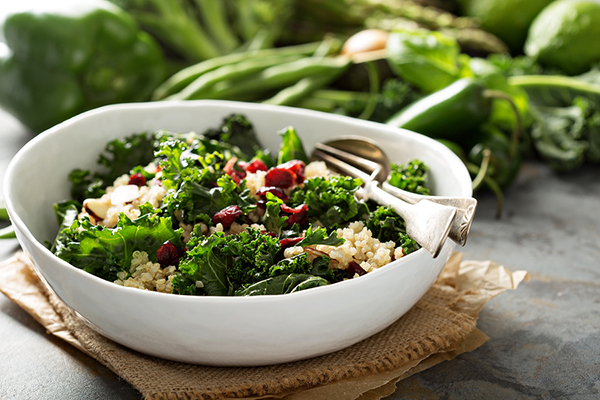 INGREDIENTS
• 8 cups chopped raw kale (leaves only)
• 1 cup cooked quinoa
• 1/3 cup reduced sugar dried cranberries
• 2 tbsp sliced almonds
Dressing
• 2 tbsp olive oil
• 1 tbsp balsamic vinegar
• 1 tbsp fresh lemon juice
• 2 tsp granulated stevia
• 1 tsp Dijon mustard
• 1/2 garlic clove, mined
• 1/2 tsp cracked black pepper
• 1/2 tsp salt

PREPARATION
• In a large bowl, mix kale, quinoa, cranberries, and almonds until well combined.
• In a separate bowl, whisk olive oil, balsamic vinegar, lemon juice, stevia, Dijon mustard, garlic, pepper, and salt together until fully blended.
• Drizzle dressing over kale mixture. Toss to coat. Enjoy!
Optional: slice some grilled chicken, steak, or fish over the top for extra protein.

NUTRITION INFO
(Per serving; recipe serves 4)
200 calories, 3.5g protein, 23g carbohydrates (6g fiber), 10.5g fat


RELATED CONTENT
Fit Fixins: Low-Fat Vanilla Protein Cheesecake
Fit Fixins: Cauliflower Fried Rice
Fit Fixins: Zesty Chicken Tomato Stew
Fit Fixins: Guiltless Breakfast Wrap
Fit Fixins: White Chocolate Raspberry Protein Waffles
Fit Fixins: Almond Butter Protein Bites
ABOUT ALLISON FRAHN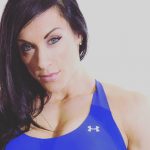 Allison is a five-time IFBB Figure Olympian who has a passion for healthy, yet delicious cooking. Allison owns Alli's Slim Pickins, Inc., a healthy food and recipe-based company. She is excited to share her years of experience with you and provide healthy recipes that proclaim her slogan: 100% Taste & 0% Guilt.
Want more recipes? Purchase Ali's recipe e-book here!