By Allison Frahn
Enchiladas are sure to be a favorite at most Mexican restaurants, and for good reason: they are absolutely delish! However, they are loaded with calories. The traditional dish is a corn tortilla rolled around a filling of meats, cheese, rice, vegetables, or combinations of these. Well, I decided to recreate this dish with a lighter spin by swapping out some of the ingredients while keeping all of the flavor. Enjoy!
INGREDIENTS
• 1 pound extra lean ground chicken breast
• 2 cups red enchilada sauce
• 1 cup white rice, cooked
• 2/3 cup shredded reduced-fat Mexican cheese blend
• 2 large zucchinis, cut lengthwise into 12 (1/4-inch thick) slices
• 1 small yellow onion, finely chopped
• 1/4 cup fresh cilantro leaves, finely chopped
• 2 large cloves garlic, minced
• 1/2 tbsp olive oil
• 1 tsp ground cumin
• 1/2 tsp crushed chili flakes
• 1/2 tsp chili powder
• salt and pepper, to taste
PREPARATION
• Preheat the oven to 400 degrees Fahrenheit.
• Season both sides of the zucchini with salt and pepper, then place on a cookie sheet and put in the oven for about 10 minutes, or until pliable (but not fully cooked) flipping once half way.
• Remove from oven and put on paper towels to help dry out.
• Coat a large skillet with non-stick spray and place over medium-high heat. Add 1/2 tbsp olive oil, chopped onion, and minced garlic. Sauté for about 3 minutes or until onions are fragrant and slightly browned.
• Add the ground chicken breast, cilantro, cumin, chili flakes, and chili powder to the skillet. Cook for about 6 minutes, chopping and stirring frequently with a spatula until mixture is crumbly and lightly browned. Next, add the cooked white rice and 1/2 cup enchilada sauce. Mix well and cook for an additional 2-3 minutes. Remove from heat.
• Spread 1/2 cup of the enchilada sauce on the bottom of a large baking dish.
• Prepare the rollups by forming a circle with a zucchini slice and placing in the dish. You will start lining the sides of the dish first so the circles stay closed. (You will most likely have to hold the first couple rollups closed until you start to fill and press them together. Repeat this with each of the remaining slices.
• Drizzle the remaining 1 cup of enchilada sauce over the top and then sprinkle with the cheese blend. Cover with foil and bake for 15 minutes. Remove the foil and bake for an additional 10 minutes, or until the cheese is fully melted and the tops are lightly browned.
• Remove from oven and let sit for about 5 minutes before serving to set. Enjoy!
NUTRITION INFO
(Per 3 rollups; recipe serves 3)
330 calories, 37g protein, 30g carbohydrates (2g fiber), 7g fat


RELATED CONTENT
Fit Fixins: Apple Spice Pancakes
Fit Fixins: Homemade Asian Chicken & Garlic Sauce
Fit Fixins: Edible Snowman & Kiwi Christmas Tree
Fit Fixins: Carrot Cake Soufflés
Fit Fixins: Chocolate Crinkle Cookies
ABOUT ALLISON FRAHN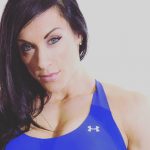 Allison is a five-time IFBB Figure Olympian who has a passion for healthy, yet delicious cooking. Allison owns Alli's Slim Pickins, Inc., a healthy food and recipe-based company. She is excited to share her years of experience with you and provide healthy recipes that proclaim her slogan: 100% Taste & 0% Guilt.