If you like sweet potato fries, then you are going to love these Butternut Squash Fries!
They're delicious, of course … but you can eat twice as many of them as sweet potato fries for the same calories!
I am a huge fan of variety, so I added 3 different flavor creations to spice up your fries. Once you get the hang of it, be creative and use your own favorite spice combinations. Enjoy!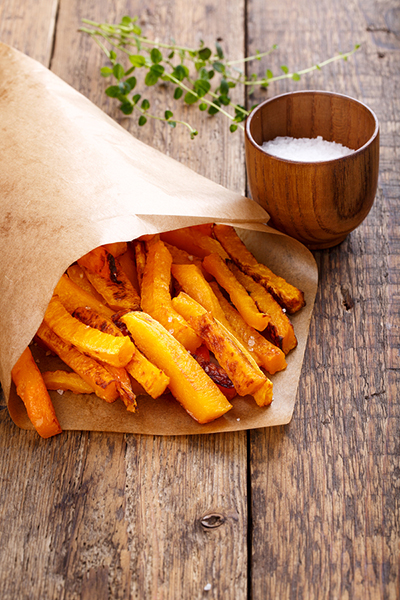 INGREDIENTS
• 2 lb. butternut squash, peeled, seeds removed
• 1 tbsp olive oil
• Salt and pepper, to taste

PREPARATION
• Preheat oven to 400 degrees F
• Peel the squash with a vegetable peeler. Cut the squash in half lengthwise and then use a spoon to scoop out the seeds.
• Cut the squash into thin rectangular shapes (like french fries) and put into a large mixing bowl. Add olive oil, salt, and pepper (or any of your desired seasonings) and then toss all together until well coated.
• Transfer to a baking sheet coated with non-stick cooking spray and spread out in a single layer. Bake in the oven for approximately 30 minutes, tossing occasionally, until tender and golden brown. (If you prefer them well done, cook for longer until your desired level of doneness/crispiness). Enjoy!

FLAVOR VARIETIES
#1 Sweet Cinnamon Replace pepper with 2 tsp. ground cinnamon and 1 TB granulated stevia (or your preferred sweetener)
#2 Garlic Parmesan In step #3 above, add 2 TB reduced fat parmesan cheese and 1 tsp. granulated garlic to your seasonings #3 Spicy Cajun In step #3 above, add 1 tsp. oregano, 1 tsp. paprika, and ½ tsp. cayenne pepper to your seasonings.

NUTRITION INFO
(Per serving; recipe serves 4)
135 calories, 1g protein, 26g carbs (4.5g fiber), 3.5g fat

RELATED CONTENT
Fit Fixins: Zucchini Cheesy Waffles
Fit Fixins: Peanut Butter Chip Oatmeal Cookies
Fit Fixins: Sunny Side Portobello Mushrooms
Fit Fixins: Skinny Shrimp Scampi
Fit Fixins: Fresh Raspberry Lime Sorbet
Fit Fixins: Lemon Ricotta Pancrepes
ABOUT ALLISON FRAHN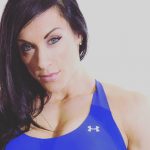 Allison is a five-time IFBB Figure Olympian who has a passion for healthy, yet delicious cooking. Allison owns Alli's Slim Pickins, Inc., a healthy food and recipe-based company. She is excited to share her years of experience with you and provide healthy recipes that proclaim her slogan: 100% Taste & 0% Guilt.