I'm sure you've seen this on your favorite cooking show as it has become quite popular recently, and for good reason! How adorable is this? 😚 This super easy to make and healthy, and your kids will love it too. Share this with your family and friends at your next summer-time gathering. Enjoy!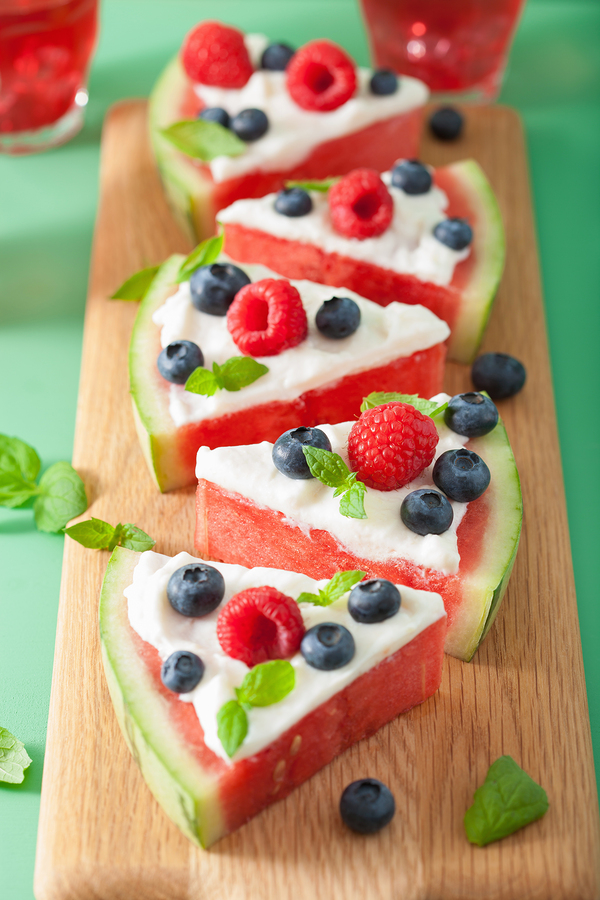 INGREDIENTS
• 1 large round slice watermelon (about 1-inch thick), cut from the center
• 1/4 cup plain nonfat Greek yogurt
• 1/4 cup nonfat Ricotta cheese
• 1/4 cup nonfat cream cheese
• 2 tbsp granulated sweetener
• 1 tsp lemon juice
• 1/2 tsp vanilla
• pinch salt
• 1/4 cup fresh raspberries
• 1/4 cup fresh blueberries
• 1 sprig fresh mint, chopped finely
PREPARATION
• Place the watermelon "crust" onto a serving dish.
• Blend the yogurt, ricotta cheese, cream cheese, sweetener, lemon juice, vanilla, and salt in a blender or food processor, until smooth.
• Spread yogurt mixture onto the watermelon crust, then top with berries and mint.
• Cut into five equal slices and serve immediately. Enjoy!
NUTRITION INFO
(Per slice; recipe serves 5)
125 calories, 4g protein, 27g carbohydrates (1.5g fiber), 0.5g fat

RELATED CONTENT
Fit Fixins: Thai Pineapple Shrimp Boat
Fit Fixins: Mango Vanilla Fro-Yo
Fit Fixins: Low Carb Grilled Portobello Bun Burger
Fit Fixins: Strawberry Shortcake Roll-Ups
Fit Fixins: Tuna Spring Rolls

ABOUT ALLISON FRAHN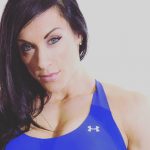 Allison is a five-time IFBB Figure Olympian who has a passion for healthy, yet delicious cooking. Allison owns Alli's Slim Pickins, Inc., a healthy food and recipe-based company. She is excited to share her years of experience with you and provide healthy recipes that proclaim her slogan: 100% Taste & 0% Guilt.
Want more recipes? Purchase Ali's recipe e-book here!