By Allison Frahn
Dishes that I prepare are often inspired from either something I ate in the past, saw somewhere and was intrigued, or something that I wanted to make a healthier version of. This Zesty Beef and Tomato Stuffed Eggplant touches all three bases: it's a healthier version of an eggplant dish I had at a Turkish restaurant.
I lightened it up by reducing the amount of oil used to cook (since eggplant absorbs pretty much anything that it's cooked with) as well as using a lean cut of beef. It's packed with flavor from the tomatoes, peppers, and onion and is very satisfying. Serve on it's own or over a bed of white rice. Enjoy!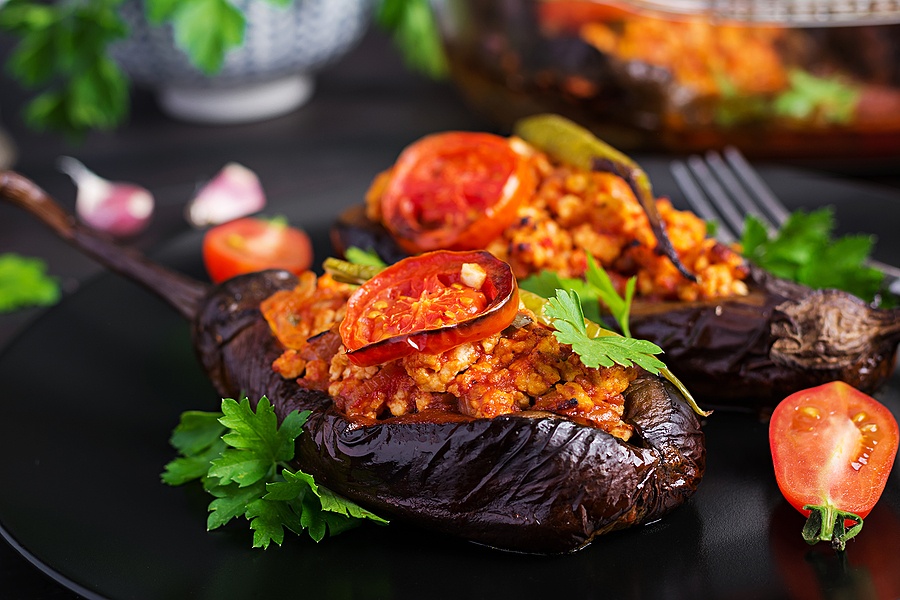 INGREDIENTS
• 4 medium eggplants
• 1 pound 96% lean ground Beef
• 4 fresh green chiles, seeded and cut into long strips
• 3 cloves garlic, minced
• 2 ripe red tomatoes, one sliced into 4 thick slices, the other chopped
• 1 large onion, chopped
• 1/4 cup fresh parsley, finely chopped
• 2 tbsp coconut oil
• 1 tbsp tomato paste
• 1/2 tsp each salt and pepper, or to taste
• 1 tbsp salt for the brine and a can of cooking spray
PREPARATION
• Prepare the eggplants by peeling a few lengthwise strips on their skin.
• Fill a large bowl with water and add 1 tbsp of salt. Submerge the eggplants in the water and use a plate or other object to weigh them down and keep submerged in the water. Soak for 30 minutes as you prepare the filling.
• Coat a large skillet with non-stick spray and place over medium heat. Add 1 tbsp coconut oil and allow to melt. Then add onion, garlic and chiles. Sauté until golden brown, stirring frequently so the garlic doesn't burn.
• Next, add in ground beef and cook until fully cooked through and browned, chopping as you go to form crumbles.
• Now stir in the chopped tomatoes (not the sliced tomatoes), tomato paste, salt and pepper; simmer until the tomatoes are softened, approximately 5 minutes.
• Stir in the chopped parsley, season to taste with more salt and pepper, if desired. Turn off heat and set aside.
• Remove the eggplants from the brine and gently squeeze them with a paper towel or clean dish towel to dry.
• Coat a separate large skillet with non-stick spray and place over medium-high heat. Add 1 tbsp coconut oil and allow to melt. Add eggplant and sauté, rotating as necessary until soft and browned on all sides.
• Remove from skillet and place into a baking dish.
• Preheat oven to 400 degrees Fahrenheit.
• Cut a deep slit lengthwise into each eggplant and gently pull apart to create an opening for the filling.
• Divide the filling evenly and spoon into each eggplant. Then top with 1 tomato slice on each. Bake until the eggplants are soft all the way through, about 25-30 minutes. Let sit for 5 minutes before serving. Enjoy!
NUTRITION INFO
(Per serving; recipe serves 4)
390 calories, 30g protein, 40g carbohydrates (16g fiber), 12g fat
RELATED CONTENT
Fit Fixins: Mediterranean Watermelon Salad
Fit Fixins: Secret Ingredient Chocolate Raspberry Mousse
Fit Fixins: Raspberries & Cream Overnight Oats
Fit Fixins: Chili Lime Steak Fajitas
Fit Fixins: Zucchini Crepe Quesadillas
ABOUT ALLISON FRAHN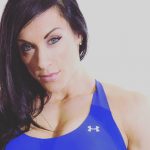 Allison is a five-time IFBB Figure Olympian who has a passion for healthy, yet delicious cooking. Allison owns Alli's Slim Pickins, Inc., a healthy food and recipe-based company. She is excited to share her years of experience with you and provide healthy recipes that proclaim her slogan: 100% Taste & 0% Guilt.