If you love pasta but are avoiding it due to the carbohydrate content, then these noodles should certainly become a staple in your meals! The low carb "noodles" are made from zucchini using a handy dandy spiralizer tool!
The options for meal creations are endless. One of my favorites that I'm bringing you today is my Low-Carb Italian "Pasta" Salad. Be creative and have fun preparing your own versions! Enjoy!
*NOTE: You will need a Spiralizer for this recipe. If you don't have one yet, well it's about time you get one!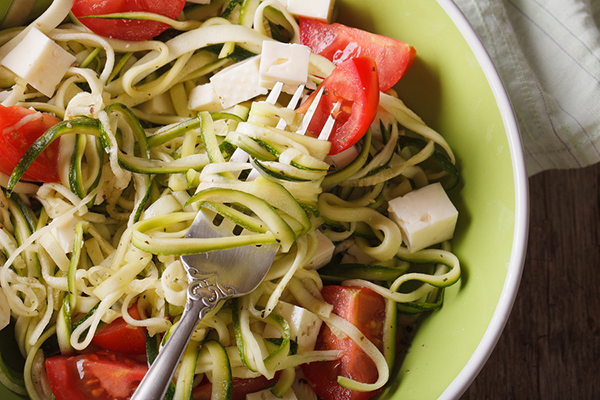 INGREDIENTS
Pasta
• 2 medium zucchini
• 1/3 cup grape tomatoes, halved
• 4 oz. feta cheese, cubed
Dressing
• 2 tbsp lemon juice
• 1 tbsp red wine vinegar
• 1 tsp olive oil
• 1/4 tsp of the following: dried oregano, parsley, basil (or you can use 1 tsp Italian seasoning blend)
• Salt and pepper, to taste
PREPARATION
• Spiralize your zucchinis to create your noodles (you will love it!)
• Place your zucchini noodles in a large bowl and add the tomatoes and feta cheese.
• Put ALL dressing ingredients into the bowl with the salad ingredients and gently toss until thoroughly combined.
• Put in the fridge for a couple of hours (at least) in order to let all the flavor come together and allow the zucchini to soften.
• Eat as a light meal or serve alongside your favorite protein, such as grilled chicken, fish, or lean meat. Enjoy!
NUTRITION INFO
(Per serving; recipe serves 2)
175 calories, 12.5g protein, 9g carbohydrates (2.5g fiber), 10g fat


RELATED CONTENT
Fit Fixins: Oatmeal Raisin Breakfast Cookies
Fit Fixins: Grilled Vegetable Flatbread Pizza
Fit Fixins: Flank Steak Pinwheels
Fit Fixins: Strawberry Vanilla Oat Parfait
Fit Fixins: Loaded Deviled Eggs
Fit Fixins: Black & Brownies
ABOUT ALLISON FRAHN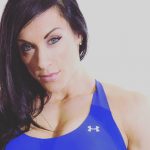 Allison is a five-time IFBB Figure Olympian who has a passion for healthy, yet delicious cooking. Allison owns Alli's Slim Pickins, Inc., a healthy food and recipe-based company. She is excited to share her years of experience with you and provide healthy recipes that proclaim her slogan: 100% Taste & 0% Guilt.
Want more recipes? Purchase Ali's recipe e-book here!