By Allison Frahn
This protein-packed stir-fry is a fantastic solution for those nights when you need a quick and easy dish for dinner. The ingredients are cut into bite-size pieces for minimal cooking time. Serve over your favorite rice or, for a lighter option, serve alongside a salad. Enjoy! ?

INGREDIENTS
• 4 tsp coconut oil
• 1 tbsp lemon juice
• 1 tbsp rice wine vinegar
• 1 tbsp lower sodium soy sauce
• 2 tsp granulated stevia (or your fav sweetener)
• 1 tsp minced garlic
• 1 tsp minced ginger
• 1/2 tsp red chili flakes
• 1-1/2 cups asparagus, cut into bite size pieces
• 1 lb shrimp, raw, peeled and tails removed
• salt and pepper
PREPARATION
• Heat 2 tsp. coconut oil over medium-high heat in a large skillet. Add shrimp to pan and cook for about 3 minutes, flipping them over to cook both sides. Shrimp should be slightly opaque on both sides, but just slightly undercooked as you will put them back in the pan later to fully cook. Season with salt and pepper and then remove shrimp from skillet and put on a plate.
• In same skillet, heat another 2 tsp. of coconut oil over medium-high heat. Add asparagus and cook for about 4-5 minutes, or until slightly golden brown (don't overcook, as you want it to be firm). Add lemon juice, vinegar, soy sauce, stevia, garlic, ginger chili flakes. Cook for an additional 1-2 minutes.
• Add shrimp back into pan and stir to combine all ingredients together. Turn heat to high and cook for approximately 2 minutes, or until fragrant and golden brown. Stir frequently to ensure that it doesn't burn.
• Garnish with lemon slices and serve over rice or with a nice big salad for a lower carb option. Enjoy!
NUTRITION INFO
(Per serving; recipe serves 3)
205 calories, 31g protein, 4g carbohydrates (1.5g fiber), 7g fat

RELATED CONTENT
Breakfast Stuffed Peppers
Fit Fixins: Grilled Lamb Kebabs
Fit Fixins: Mexican Style Chicken Stuffed Sweet Potatoes
Fit Fixins: Acai Fruit Smoothie Bowl
Fit Fixins: Sweet N' Spicy Chicken Meatballs

ABOUT ALLISON FRAHN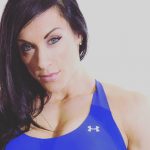 Allison is a five-time IFBB Figure Olympian who has a passion for healthy, yet delicious cooking. Allison owns Alli's Slim Pickins, Inc., a healthy food and recipe-based company. She is excited to share her years of experience with you and provide healthy recipes that proclaim her slogan: 100% Taste & 0% Guilt.
Want more recipes? Purchase Ali's recipe e-book here!