Written By Nicole Wilkins, four-time Figure Olympia Champion
It's happened to the best of us: you get to the gym ready to crush today's workout, only to find you left something important at home. Whatever it may be, forgotten items can ruin your mood and negatively effect your workout.
Here are five essentials that are always in my gym bag to make sure I never have to worry about a workout without them!
1. WATER BOTTLE
Staying hydrated during your workout is a top priority. If you feel thirsty, chances are you are already dehydrated, so drink regularly to keep your energy levels up. I opt for a BPA-free bottle with a secure, locking cap to avoid accidental spills so I'm not "that person" who makes a big puddle on the gym floor.
2. HEADPHONES
I can't even remember the last time I trained without headphones. I put together my own playlists of uplifting songs with a good beat. I prefer actual headphones over ear buds because my ears are so small and ear buds always fall out, but go with what feels comfortable for you.
3. SHAKER CUP
Pack a shaker cup already filled with protein powder for your post-workout shake. It's important to get nutrition to your muscles immediately following your workout to kickstart recuperation and you don't want to be stuck in traffic with nothing at hand.
4. BELT/STRAPS
You should always keep a belt handy just in case a certain machine is taken and you have to opt for an exercise that requires more back/core stabilization, like squats, bent over barbell row, push presses and more.
5. STRAPS
I always keep straps handy to reinforce my grip for pulling exercises – pullups, pulldowns, rows and more. When you're trying to gain muscle, you have to lift heavy, and you don't want your grip to tire out before your back does.
Looking for more awesome training and nutrition information? Join NicoleWilkins.com for hundreds of workouts, training and nutrition tips, healthy recipes and more to help you transform your body and reach your fitness goals!
ABOUT NICOLE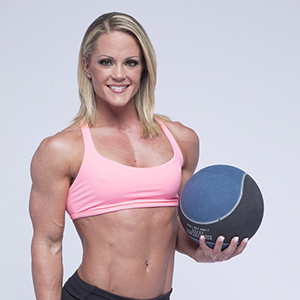 One of the biggest names in the fitness industry, Nicole Wilkins is a world-record holding four-time Figure Olympia Champion and 2012 IFPA Personal Trainer of the Year. Nicole earned her BA in Wellness, Health Promotion and Injury Prevention at Oakland University. The owner and founder of nPower Nutrition, Nicole has helped thousands of people start living a healthier lifestyle and reach their fitness goals.