What's better than the taste of fresh raspberry sorbet on a hot summer day … especially when it's healthy, fat free and low in sugar!
Most sorbets are naturally low in fat (unless made with avocado or added cream), but they tend to be loaded with sugar to make up the difference. Well, not in my recipe! You get the naturally delicious taste of fresh raspberries that you can enjoy without an ounce of guilt.
Enjoy!
*NOTE: You will need an ice cream maker for this recipe.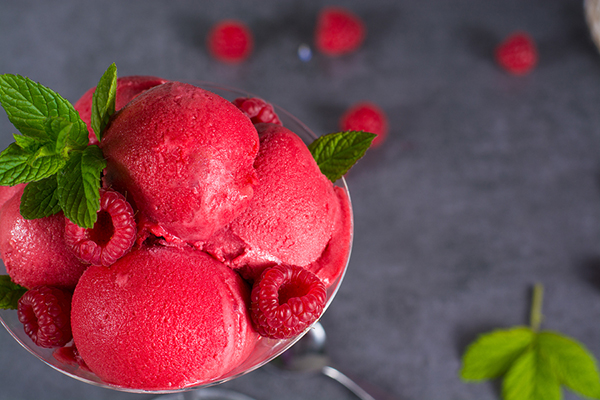 INGREDIENTS
• 3 cups fresh raspberries (you can sub blueberries or strawberrries if you prefer)
• 1/2 cup sugar substitute (I highly recommend Swerve for this recipe due to it's cooking functionality)
• 1/3 cup water
• Fresh juice from half of a lime
• 1/2 tsp salt
• 1/2 tsp vanilla extract

PREPARATION
• Put all ingredients (raspberries, sugar substitue, water, lime juice, salt, and vanilla extract) into a food processor and puree until smooth.
• Pour the mixture into your ice cream maker and freeze according to the directions specific to your machine.
• Once the sorbet is complete, transfer to a freezer-safe container and eat as you wish.
• Yup – that's it! Enjoy!
NUTRITION INFO
(Per serving; serves 4)
45 calories, 1g protein, 9g carbohydrates (6g fiber), 0.5g fat
Now – compare my version to the "store-bought" version!
Store-bought Raspberry Sorbet
(½ cup serving)
120 calories, 0g protein, 31g carbohydrates (2g fiber), 0 grams fat
RELATED CONTENT
Fit Fixins: Lemon Ricotta Pancrepes
Fit Fixins: Sweet Potato & Black Bean Quesadilla
Fit Fixins: Tropical Overnight Oats
Fit Fixins: Lean Turkey Cheddar Kabobs
Fit Fixins: Chocolate Strawberry Fro Yo Bark
Fit Fixins: Sauteed Veggie Omelete
ABOUT ALLISON FRAHN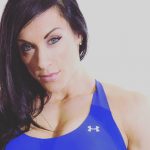 Allison is a five-time IFBB Figure Olympian who has a passion for healthy, yet delicious cooking. Allison owns Alli's Slim Pickins, Inc., a healthy food and recipe-based company. She is excited to share her years of experience with you and provide healthy recipes that proclaim her slogan: 100% Taste & 0% Guilt.