By Allison Frahn
Spring Rolls are healthy ingredients all wrapped up in a yummy piece of rice paper for your eating enjoyment. The beauty about these rolls is that you can use an assortment of different veggies, fruits, herbs, spices, and proteins to constantly add variety to your meals. In this recipe, I went with my favorite – tuna. Enjoy! ?
INGREDIENTS
• 1 lb raw sushi-grade ahi tuna, sliced into thin strips
• 1 small avocado, sliced into thin strips
• 1 carrot, peeled and julienned
• 1/2 cucumber, julienned
• 1 red bell pepper, julienned
• 1 ounce cooked rice vermicelli noodles
• 4 large butter lettuce leaves, halved
• 8 spring roll rice paper wrappers
PREPARATION
• Prepare the rice paper wrappers: Pour warm water into a large bowl. One at a time, dip the rice paper wrapper into the warm water for 15-20 seconds (or package directions). Immediately remove from the water and place flat onto a work surface. Pat the wrapper slightly dry.
• Place a few sticks of carrot, cucumber, red pepper on top of the bottom 1/3 of the rice paper. Then, a small amount of noodles, avocado, a lettuce leaf on top and finally sliced tuna (do not overstuff the roll; start small then add more, as needed, as you roll each one.)
• Roll everything up tightly by gently pulling up the bottom of the roll and roll over the filling. Then, roll and use your hands to tuck the filling in as you go, getting the roll as tight as possible (the tighter, the better).
• Serve with Sriracha or your favorite dipping sauce. Enjoy!
NUTRITION INFO
(Per 2 rolls; recipe serves 4)
300 calories, 35g protein, 23.5g carbohydrates (2.5g fiber), 8g fat

RELATED CONTENT
Fit Fixins: Trail Mix Chicken Salad
Fit Fixins: Grilled Hawaiian Turkey Pineapple Skewers
Fit Fixins: Berries & Cream Cake Parfait
Fit Fixins: Sesame Crusted Ahi Tuna With Ginger Lime Sauce
Fit Fixins: Blueberry Protein Muffins

ABOUT ALLISON FRAHN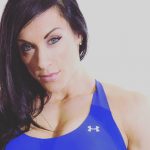 Allison is a five-time IFBB Figure Olympian who has a passion for healthy, yet delicious cooking. Allison owns Alli's Slim Pickins, Inc., a healthy food and recipe-based company. She is excited to share her years of experience with you and provide healthy recipes that proclaim her slogan: 100% Taste & 0% Guilt.
Want more recipes? Purchase Ali's recipe e-book here!