By Allison Frahn
This is one of those meals that I consider to be a "great bite." It has just a few ingredients, but they offer a beautifully complex range of flavors that makes it so satisfying. The smoky salmon, the peppery tang of the arugula, the acidity of the vinegar and a touch of sweetness from the raspberry will light up your taste buds. After I finish this meal, all my cravings are curbed (at least for a short while). Enjoy!
INGREDIENTS
• 1 cup egg whites
• 4 tsp coconut flour
• 6 oz smoked salmon, thinly sliced
• 2 cups arugula
• 1 tbsp raspberry vinegar (you can use balsamic vinegar or your preferred vinegar)
• 2 tsp olive oil
• 1 tsp lemon juice
• 1 tsp granulated sweetener
• salt and pepper, to taste
PREPARATION
• In a bowl, make arugula salad by combining arugula, vinegar, lemon juice, olive oil, sweetener, salt and pepper. Toss well. Set aside.
• In a separate bowl, combine egg whites, coconut flour, and a pinch of salt. Whisk will to form batter.
• Coat a large skillet with non-stick cooking spray and place over medium heat. Pour half of the batter into the bottom of the heated skillet and swirl around to cover the pan and make as thin as possible. Cook crepe until it is firm and lightly browned on the underside, roughly 2 minutes, then flip over and cook for an additional minute. Remove crepe from pan and place on plate. Repeat with the remaining batter to form your second crepe. (NOTE: it is important that you get your crepes as thin as possible in order to work well for the roll-up. If you are using a smaller skillet, use less batter).
• Now, prepare the roll-ups by taking one of the crepes and layering half of the sliced smoked salmon on top. Then, place half of the arugula salad in the center. Take one side of the crepe and roll it tightly to form your roll-up. Repeat with the other crepe. Slice it up and enjoy!
NUTRITION INFO
(Per serving; recipe serves 2)
240 calories, 32g protein, 6g carbohydrates (2g fiber), 9g fat
RELATED CONTENT
Fit Fixins: Strawberry Cream Cheese French Toast Sandwich
Fit Fixins: Low Carb Spaghetti With Meat Sauce
Fit Fixins: Frosted Chocolate Raspberry Cupcakes
Fit Fixins: Chicken Enchilada Zucchini Rollups
Fit Fixins: Apple Spice Pancakes
ABOUT ALLISON FRAHN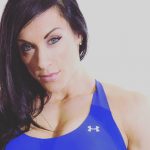 Allison is a five-time IFBB Figure Olympian who has a passion for healthy, yet delicious cooking. Allison owns Alli's Slim Pickins, Inc., a healthy food and recipe-based company. She is excited to share her years of experience with you and provide healthy recipes that proclaim her slogan: 100% Taste & 0% Guilt.