By Naomi Rabon, NW Fitness Team Trainer
Food. 🍗 It can bring us great pleasure, and it can also bring us an equal amount of misery. Sometimes all we want to do is sit alone in our happy place with our favorite food, while other times we think "I'm never eating again!" Food can give us years of vitality, or bring us ever closer to our graves. In sickness and in health, for richer or poorer, till death do us part, we are committed for life in a marriage with food. ❤️
Think about it:
• Relationships can be healthy and unhealthy.
• Relationships are never perfect; they can be messy, filled with emotion, drama, abuse, manipulation, co-dependency, etc.
• Relationships can take years to get to a healthy, stable place and the road is filled with ups and downs.
So, take all of the above and apply it to your relationship with food. Did this just switch on for you? 💡
HOW TO IMPROVE YOUR RELATIONSHIP WITH FOOD
1. Be Honest Ask yourself this question: "Do I have a healthy or unhealthy relationship with food?" If it's unhealthy, what are the unhealthy aspects of my relationship with food: emotional eating, body image dysmorphism affecting eating habits, food manipulation (reward/punishment), etc.
2. Assess Your Situation Once you've come to terms with where you are in your relationship with food, assess what steps to take next. What are your relationship goals with food? Yes, you should set goals for the relationship you'd like to have with food! ✍️ As with anything else in life, you have to know what your destination point is in order to figure out how to get there.
3. Seek Help/Support Just like you would see a financial advisor about improving your financial situation, you may want to seek the guidance of a support group or therapist for issues you may be dealing with that affect your relationship with food. Food can be categorized as substance abuse when it is used as a coping mechanism for people wanting a "fix" or a "high." The only catch here is that we can't "quit" food.
4. Be Patient, Consistent and Diligent As with anything in your life that you are trying to accomplish, improving your relationship with food takes time. Your journey in this arena will be filled with stumbling blocks, low points, but also filled with getting back up again and succeeding! You have to keep at it. Be forgiving but also be persistent. 💪
Starting your journey toward improving your relationship with food may be scary and difficult, but if you think about other relationships and struggles you've been through only to see that it was worth overcoming to get to the other side, isn't improving your relationship with food worth the fight? That was a rhetorical question! 😉
RELATED CONTENT
Tip Me Tuesday: The Right Weight
Tip Me Tuesday: The Big Picture
Tip Me Tuesday: Social Media And Fitness
Tip Me Tuesday: Nurture Yourself
Tip Me Tuesday: Exercise Your Appetite
ABOUT NAOMI RABON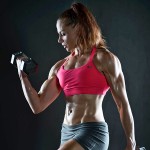 One of the trainers on Nicole's elite NW Fitness Training Team, Naomi is a certified Personal Trainer and Fitness Specialist through the National Academy of Sports Medicine. She is a NPC Figure competitor who has been involved in the health and fitness industry for over 12 years.
Go here to find out more about training with the NW Fitness Training Team!