This dish has only 3 ingredients, yet it is a powerhouse of Omega-3's, is loaded with fiber, and is absolutely delicious!
The healthy fats and fiber in my Baked Egg and Bacon Avocado (versus a sugary, high-carb breakfast) keep you satisfied for hours so you can kiss that mid-morning crash goodbye!
By baking the avocado, it provides a delicious smoky taste and creamy texture that compliments the egg perfectly! In fact, it's so good that you might even want to eat it as a side dish for lunch, dinner, or any time of the day. Enjoy!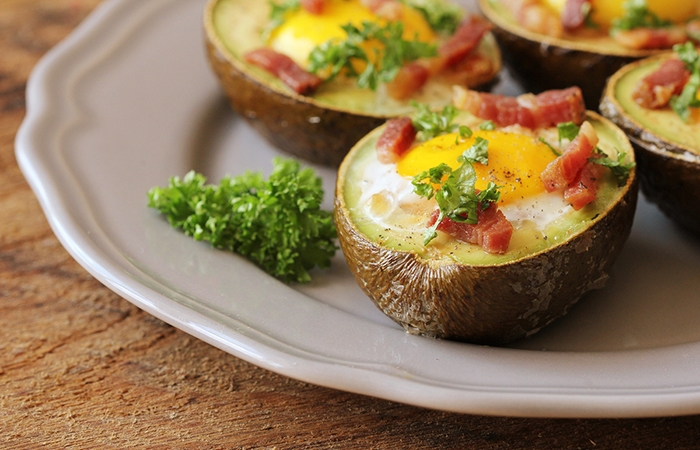 INGREDIENTS
(recipe makes 4; serving size is one avocado half
• 2 medium avocados (approximately 7oz. each)
• 4 large eggs
• 1 slice Canadian bacon, cooked and chopped
• Salt and pepper (to tast)e

PREPARATION
• Preheat the oven to 425 degrees F. Coat a baking dish with non-stick cooking spray and set aside
• Cut avocado in half and carefully remove pit. Usually the hole will be big enough, but if the hole looks too small to fit one egg, scoop out a little at a time until it is big enough
• Secure your avocados in a small-medium baking dish so that they do not tilt or tip over (this will keep the egg intact)
• Crack your egg and carefully slide into the hole of the avocado. Repeat with remaining eggs and avocado halves. Season with salt and pepper, to taste
• Gently place baking dish in oven and bake approximately 15 minutes, or until eggs are cooked to your desired consistency (if you prefer your eggs more runny than firm, you might require less time)
• Remove from oven and sprinkle crumbled bacon on top. NOTE: you can add whatever toppings you wish such as chives, salsa, red pepper flakes, hot sauce, etc. Enjoy!

NUTRITION INFO
(per avocado half)
245 calories, 9.5 grams protein, 7 grams carbohydrates (7 grams fiber), 20 grams fat

RELATED CONTENT
Fit Fixins: Mini Italian Omelet Muffins
ABOUT ALLISON FRAHN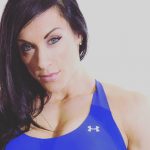 Allison is a five-time IFBB Figure Olympian who has a passion for healthy, yet delicious cooking. Allison owns Alli's Slim Pickins, Inc., a healthy food and recipe-based company. She is excited to share her years of experience with you and provide healthy recipes that proclaim her slogan: 100% Taste & 0% Guilt.
Want more recipes? Purchase Ali's recipe e-book here!