By Allison Frahn
Sometimes the presentation of food can be just as delicious as the actual food itself!
Oftentimes, I would make chicken salad and mash the avocado in with it to make it more of a dressing. But somehow keeping it separate made me feel like I was eating more – which I love!
In addition, serving my chicken salad in these adorable avocado boats made it even more fun and enjoyable to eat. This dish is packed with healthy omegas, so don't worry about the fat content – it's all good for you.
Enjoy!
INGREDIENTS
• 1 large ripe avocado
• 6 oz boneless, skinless chicken breast, cooked and cut into bite size chunks
• 4 red grapes, halved
• 3 walnut halves, chopped
• 1/4 cup arugula leaves
• 1/4 cup romaine lettuce, chopped
• 2 tbsp plain nonfat Greek yogurt
• 2 tsp vinegar
• 1 tsp granulated stevia, or your preferred sweetener
• Salt and pepper, to taste

PREPARATION
• Cut avocados in half and scoop out flesh to 1/4 thickness. Reserve 1 TB of the flesh and save the rest for another time! Set aside.
• In a large mixing bowl, combine 1 TB avocado with Greek yogurt, vinegar, stevia, salt, and pepper. Mix well.
• Toss in the chicken breast, grapes, walnuts, arugula, and lettuce. Toss to combine and coat evenly.
• Scoop into each of the avocado halves. Enjoy!
NOTE: you can serve one half as a side dish, or choose to eat both for a meal.
NUTRITION INFO
(Per avocado boat; recipe serves 2)
260 calories, 27g protein, 6g carbs (5g fiber), 14g fat

RELATED CONTENT
Fit Fixins: Raspberry Banana Protein French Toast
Fit Fixins: Zesty Cranberry Kale Quinoa Salad
Fit Fixins: Low-Fat Vanilla Protein Cheesecake
Fit Fixins: Cauliflower Fried Rice
Fit Fixins: Zesty Chicken Tomato Stew

ABOUT ALLISON FRAHN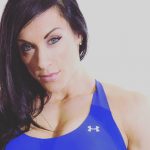 Allison is a five-time IFBB Figure Olympian who has a passion for healthy, yet delicious cooking. Allison owns Alli's Slim Pickins, Inc., a healthy food and recipe-based company. She is excited to share her years of experience with you and provide healthy recipes that proclaim her slogan: 100% Taste & 0% Guilt.
Want more recipes? Purchase Ali's recipe e-book here!