By Naomi Rabon, NW Fitness Team Trainer

You may have heard any one of us on the Nicole Wilkins Team – Nicole, Maureen and myself – discuss the importance of self-talk in anything you do in life. Our thoughts often turn into our beliefs. Then our beliefs become an ingrained perception of ourselves. How we view ourselves then spills over into our actions and interactions.
For example, if we believe – truly believe – we will perform well at something, then we will most likely perform well at that thing. If we believe we will perform poorly at something, we most likely will follow through with that belief as well. 

But what about failure? How do we feel about ourselves if we fall short of a goal? How does that affect our perception of ourselves? It kind of deflates you, right? 


YOU ACHIEVE WHAT YOU BELIEVE
Let's say that you have a specific fitness goal of working out 5 days a week that encompasses 3 days of weight lifting and 2 days of cardio. Nutritionally, you have a specific number of calories and macro goals you are shooting for that week, and certain foods you want to incorporate, as well as other foods you want to stay away from.
It is all laid out for you: specific exercises for each day, cardio workouts including type, duration and intensity, and detailed meal plans. You have everything ready for the week, meals prepared, workouts scheduled in your calendar and you are 100% sure you will achieve your goals. 

But projects at work come up that cut into your meal times, or you forget about an important meeting or appointment, or you get sick and have to miss a few workouts. Plus, you only want saltines and ginger ale, or you forget your lunch cooler at home … the list goes on.
You look back on your week and nitpick all the ways in which you didn't reach your goals then call the whole week a complete disappointment and give up because you hate feeling like a "failure."



REPLACE "FAIL" WITH "LEARN"

But what if the word "fail" didn't exist to you? What if you completely take "failure" out of your vocabulary and nothing in your life EVER was a failure again? 

In the above scenario, what would happen if you said to yourself "Ok, in order to not have another week like that, what can I do to change it? What things can I control? What can I put I place or do differently to be able to better implement what I want to implement?"

1. Identify What You Can And Can't Control You can't help it when your pet or children or yourself gets sick. You can't help when things come up at work that need to take priority. There will always be things that come up in life that may throw you off your game. This does not mean you are a failure! It means that you are human. Forgive yourself and recognize that you may be able to rearrange your schedule and work out at a different day or at a different time. Use this as a learning experience to be more patient and forgiving with yourself when life throws you curve balls. You may end up getting really good at catching those curve balls if you use these situations as learning experiences instead of labeling them as failures.


2. Struggles Equal Learning, Learning Equals Progress Anytime you feel you're struggling, or life seems really difficult, push the pause button and take a step back so that you can see what lessons might be on the other side of the obstacle before you. Progress only comes on the other side of struggle. And sometimes, the greater the struggle, the greater the reward. The bigger the obstacle, the farther the progress.


3. Stop Using The "F-Word" Try to take "failure" completely out of your vocabulary. The concept of failure only exists if you believe it exists. The more you believe in your own failures, the more power and energy you give to failing. 

Convince yourself that failure does not exist. Only lessons exist, and you can achieve anything!


RELATED CONTENT
Tip Me Tuesday: Track It
Tip Me Tuesday: Mind Control
Tip Me Tuesday: Embrace Yourself
Tip Me Tuesday: I Get To
Tip Me Tuesday: F-O-O-D
ABOUT NAOMI RABON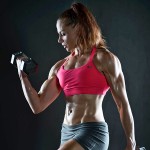 One of the trainers on Nicole's elite NW Fitness Training Team, Naomi is a certified Personal Trainer and Fitness Specialist through the National Academy of Sports Medicine. She is a NPC Figure competitor who has been involved in the health and fitness industry for over 12 years.
Go here to find out more about training with the NW Fitness Training Team!