By Allison Frahn
This adorable dish didn't come from your local café, it just looks like it did! These Baked Egg & Bacon Toast Cups tastes like a delicious egg sandwich – but even better because they are a beautiful treat for a brunch gathering, or quite frankly, to simply reward yourself! They look complicated but are a cinch. Dig in fresh from the oven when the bread is nice and toasty, the cheese is melted, and the eggs are soft and tender. Enjoy!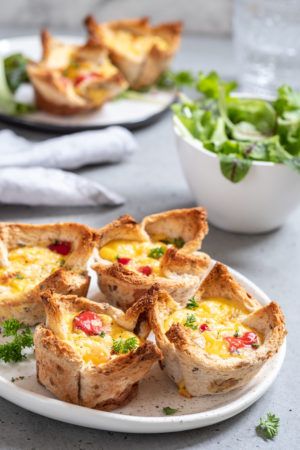 INGREDIENTS
• 6 slices light bread
• 6 large eggs
• 1 cup fresh spinach leaves
• 1/2 cup low-fat shredded cheddar cheese
• 6 cherry tomatoes, halved
• 3 slices Canadian bacon
• 1/2 tsp. each: salt and pepper, or to taste,
• fresh herbs, such as basil and parsley (optional)
PREPARATION
• Preheat oven to 375 degrees Fahrenheit.
• Coat a 6-cup muffin tin with non-stick cooking spray.
• Flatten each slice of bread with a rolling pin and stuff one slice of bread into each of the muffin cups, pressing along the sides to form a cup.
• Slice the Canadian bacon in half and put a half slice into each of the bread cups.
• Next put spinach leaves and cherry tomato halves on top of the bacon.
• Crack an egg into each of the cups and then sprinkle cheese on top. Season with salt and pepper.
• Bake for approximately 10 minutes or until eggs are set and toast tips are nice and browned. Enjoy!
NUTRITION INFO
(Per cup; recipe makes 6)
160 calories, 14g protein, 11g carbohydrates (2g fiber), 7g fat
RELATED CONTENT
Fit Fixins: Peaches & Cream Sorbet
Fit Fixins: Fire Roasted Corn & Black Bean Salsa
Fit Fixins: Savory Grilled Chicken Crepes
Fit Fixins: Strawberry Almond Kale Salad With Citrus Vinaigrette
Fit Fixins: No Bake Raspberry Cheesecake Delight
ABOUT ALLISON FRAHN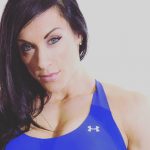 Allison is a five-time IFBB Figure Olympian who has a passion for healthy, yet delicious cooking. Allison owns Alli's Slim Pickins, Inc., a healthy food and recipe-based company. She is excited to share her years of experience with you and provide healthy recipes that proclaim her slogan: 100% Taste & 0% Guilt.