If you want a breakfast treat that will leave you with that satisfied, full-belly feeling but don't want to overdo it, then I have got the perfect recipe for you – it's all about portion control! This scrumptious Blueberry Muffin Mug Cake is a great way to start off your day because it is so easy to make, is packed with flavor and is sure to put a smile on your face.
Enjoy!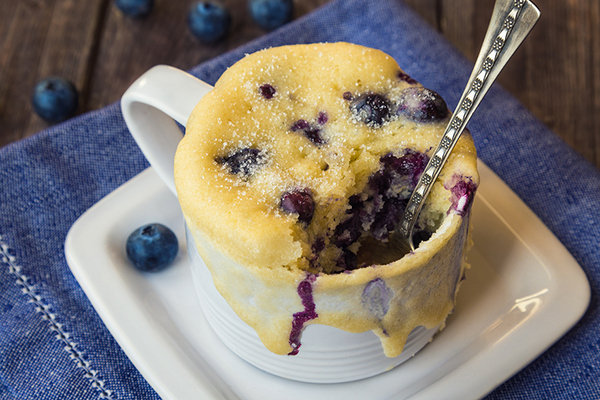 INGREDIENTS
• 1/4 cup all-purpose flour
• 1 tbsp coconut flour
• 2-3 tbsp granulated stevia (or your preferred sweetener)
• 1/4 tsp baking powder
• 1/8 tsp salt
• 1/4 cup unsweetened almond milk, room temperature
• 1 tbsp liquid coconut oil
• 1 tsp vanilla extract
• 1 egg white
• 1/4 cup fresh blueberries
PREPARATION
• Spray a large microwave-safe mug with non-stick cooking spray and set aside.
• In a mixing bowl, combine flours, stevia, baking powder, and salt until fully blended. Add in almond milk, coconut oil, vanilla extract, and egg white and stir until batter is nice and smooth.
• Gently fold in blueberries and pour batter into the mug. (Don't fold in blueberries until you are ready to microwave to prevent settling).
• Put mug in the microwave oven on high for approximately 90 seconds, or just until the cake rises and firms in the center (note, the longer you cook the cake, the more firm it will be, so adjust time according to your desired consistency). Let sit for at least 5 minutes before eating. Enjoy!
NUTRITION INFO
(Per mug cake – recipe makes 1)
330 calories, 10 grams protein, 36 grams carbohydrates (3.5 grams fiber), 16 grams fat
RELATED CONTENT
Fit Fixins: Flank Steak Pinwheels
Fit Fixins: Strawberry Vanilla Oat Parfait
Fit Fixins: Loaded Deviled Eggs
Fit Fixins: Black & Brownies
Grilled Florentine Stuffed Chicken BreastFit Fixins: Healthy Belgian Waffle
ABOUT ALLISON FRAHN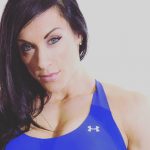 Allison is a five-time IFBB Figure Olympian who has a passion for healthy, yet delicious cooking. Allison owns Alli's Slim Pickins, Inc., a healthy food and recipe-based company. She is excited to share her years of experience with you and provide healthy recipes that proclaim her slogan: 100% Taste & 0% Guilt.
Want more recipes? Purchase Ali's recipe e-book here!