My Toasted Coconut Almond Protein Pancakes are a perfect way to kick off the day. With 2 scoops of nPower Nutrition Vanilla Cupcake Whey Isolate protein power, they have plenty of muscle-building protein, plus healthy fat and fiber to keep you energized and satisfied for hours. And the toasted flavor of the coconut and almonds turn these pancakes from delicious to mouthwatering!?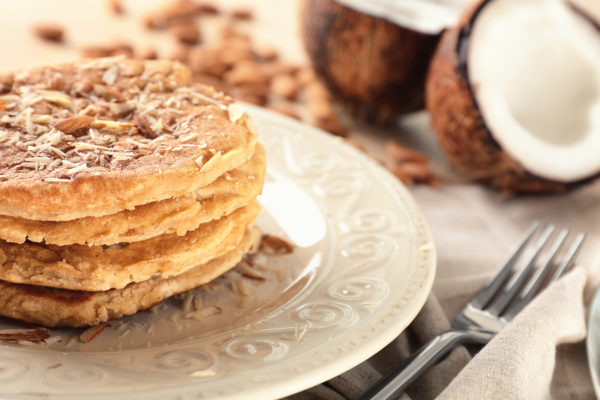 INGREDIENTS
• 3/4 cup shredded unsweetened coconut (divided into two portions)
• 2 tbsp granulated stevia
• 2 scoops nPower Nutrition Vanilla Cupcake Whey Isolate protein powder
• 1/2 cup oat flour
• 2 tbsp coconut flour
• 2 tbsp chopped almonds
• 1 tsp baking powder
• pinch of salt, or to taste
• 3/4 cup unsweetened coconut milk (you can sub almond or dairy milk if you prefer)
• 1 tbsp coconut oil liquid (or you can melt regular coconut oil)
• 1 large egg
Topping: your favorite sugar-free syrup, garnish with a sprinkle of toasted coconut and/or almonds.


PREPARATION
• Preheat oven to 350 F.
• Spray a baking sheet with non-stick cooking spray and sprinkle the shredded coconut and chopped almonds in a single layer over the sheet. Put in oven and bake for about 4 minutes, or until toasted brown (be careful not to burn)
• Remove from oven and let cool for a few minutes. Then put into food processor with 2 tbsp granulated stevia.
• In a large bowl, add the toasted coconut mixture, nPower Nutrition Vanilla Cupcake Whey Isolate protein powder, oat flour, coconut flour, baking powder, and salt. Mix to combine.
• In a separate bowl, whisk together egg, coconut oil liquid, and unsweetened coconut milk until smooth.
• Slowly fold wet ingredients into the bowl with the dry ingredients until batter is formed. (if batter is too thick add more milk, 1 tbsp at a time until thick but pourable).
• Spray a non-stick skillet with cooking spray and place over medium heat.
• Pour batter onto pan (note, recipe makes 6 pancakes) and cook for a couple minutes until tiny bubbles appear on the surface of the pancakes and edges are golden brown. Flip and cook for an additional 2-3 minutes or until firm in the center and golden brown. Enjoy!
NUTRITION INFO
(Per 2 pancakes; recipe makes 6 pancakes)
395 calories, 21g protein, 21g carbohydrates (7g fiber), 25g fat

RELATED CONTENT
Fit Fixins: Raspberry Peach Cheesecake Parfait
Fit Fixins: Pumpkin Spice Latte
Fit Fixins: Chicken Salad Avocado Boats
Fit Fixins: Raspberry Banana Protein French Toast
Fit Fixins: Zesty Cranberry Kale Quinoa Salad

ABOUT ALLISON FRAHN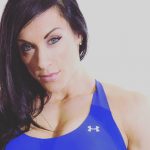 Allison is a five-time IFBB Figure Olympian who has a passion for healthy, yet delicious cooking. Allison owns Alli's Slim Pickins, Inc., a healthy food and recipe-based company. She is excited to share her years of experience with you and provide healthy recipes that proclaim her slogan: 100% Taste & 0% Guilt.
Want more recipes? Purchase Ali's recipe e-book here!