By Allison Frahn
It might seem strange to see buffalo chicken and squash in a recipe – but trust me, they work so well together! I saw a similar recipe in my relentless pursuit for new and creative ideas and had to do a healthier version.
This dish has a perfect combination of flavors and textures. The spicy buffalo sauce is muted by the creamy yogurt and the tender squash adds a nice balance to the shredded chicken. This quickly became one of my favorites. Enjoy!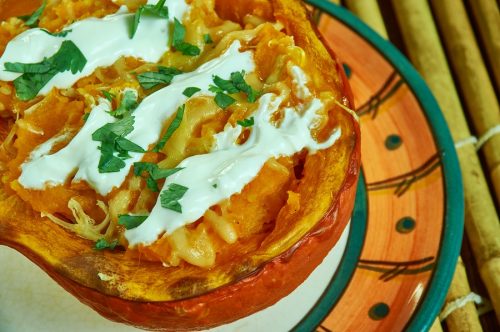 INGREDIENTS
• 1 medium acorn squash (note, you can use any winter squash or even spaghetti squash if you prefer)
• 2 cups shredded rotisserie chicken
• 1/2 cup reduced fat shredded Monterey Jack cheese, divided
• 2 ounces light Feta Cheese (like Trader Joe's), crumbled
• 1/3 cup nonfat Greek yogurt
• 1/3 tsp garlic powder
• 1/3 tsp onion powder
• 1/3 cup hot sauce, such as Frank's (more or less depending upon how spicy/saucy you enjoy)
• salt and pepper, to taste
• 2 tbsp fat-free Ranch dressing
PREPARATION
• Preheat oven to 400 degrees Fahrenheit.
• Carefully cut acorn squash in half and scoop out the seeds. Spray the cut sides of the squash with non-stick cooking spray and season with salt and pepper. Place halves cut side down onto a foil lined baking sheet. Bake in oven for about 40 minutes, or until the squash is tender when pierced with a fork.
• While the squash is baking, mix shredded chicken, 1/4 cup shredded Jack cheese, feta cheese, Greek yogurt, garlic powder, onion powder, and hot sauce into a large bowl. Set aside.
• Remove squash from oven and let sit for a couple minutes to slightly cool. Turn squash halves so cut side is up. Divide and scoop the chicken mixture evenly into the squash halves. Sprinkle the tops with remaining 1/4 cup shredded cheese.
• Transfer back to prepared baking sheet and continue to bake for 20 minutes, or until cheese is melted and starting to brown.
• Drizzle with more hot sauce and ranch dressing. Enjoy!
• Spaghetti Squash option: if you decide to use spaghetti squash, you will not scoop out the center in step #2. Instead you will bake as you would the acorn but after you will scoop the spaghetti squash into the bowl with the chicken.
NUTRITION INFO
(Per serving; recipe serves 2)
450 calories, 53g protein, 33g carbohydrates (4g fiber), 12g fat
RELATED CONTENT
Fit Fixins: Strawberry Shortcake Oat Parfait
Fit Fixins: Asian Style Chicken Lettuce Wraps
Fit Fixins: French Toast Bacon Egg N' Cheese Sandwich
Fit Fixins: Tangy Red Potato Egg Salad
Fit Fixins: Szechuan Chicken Fried Rice
ABOUT ALLISON FRAHN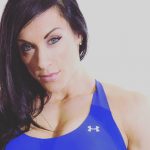 Allison is a five-time IFBB Figure Olympian who has a passion for healthy, yet delicious cooking. Allison owns Alli's Slim Pickins, Inc., a healthy food and recipe-based company. She is excited to share her years of experience with you and provide healthy recipes that proclaim her slogan: 100% Taste & 0% Guilt.