These heart-shaped gingerbread cookies have only 50 calories each – so, have one … or two … or three with your and spread the love.
Enjoy!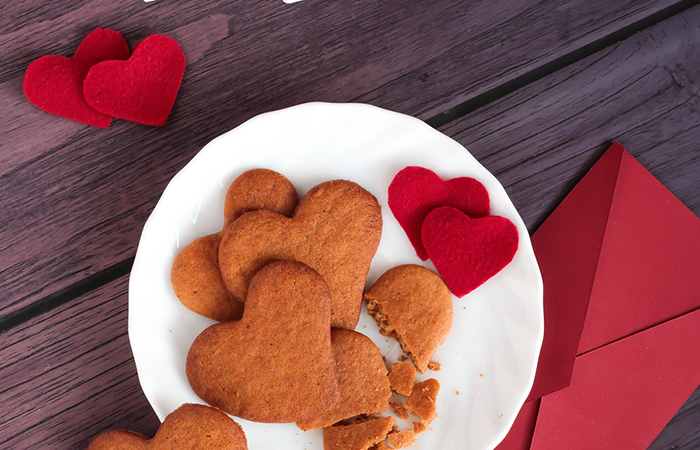 INGREDIENTS
• 1 cup granulated stevia
• 1/4 cup unsweetened applesauce
• 1/4 cup dark molasses
• 1 egg
• 1 tbsp coconut oil, melted/softened
• 1 tsp vanilla extract
• 1.5 cups white whole wheat flour
• 2 tsp pumpkin pie spice
• 1 tsp baking soda
• Salt, a pinch to taste
*You will need: heart-shaped cookie cutter

PREPARATION
• Note that the dough will need to be refrigerated for 1-2 hours, before baking your cookies, so plan ahead of time.
• In a mixing bowl, combine stevia, applesauce, molasses, egg, coconut oil, egg, and vanilla extract. Mix well.
• In separate bowl, mix together flour, spice, soda, and salt. Gradually add the dry ingredients to the bowl with the wet ingredients, stirring until fully combined.
• Roll the dough into a ball and cover with plastic wrap. Put in fridge for 1-2 hours.
• Once dough has been chilled, remove from fridge and uncover.
• Preheat the oven to 350 degrees F.
• Line two baking sheets with parchment paper. Set aside.
• Lightly dust your working area with flour before you roll out your dough in order to prevent your dough from sticking. Roll the dough out until it's approximately 1/8-inch thick
• Press cookie cutter into dough, removing the heart shaped pieces and placing onto the baking sheets.
• Note: cut your dough pieces out as close as possible in order to get the most out of your dough. If you have leftover dough, you can roll it out again and repeat this process.
• Bake for approximately 10 minutes, or until cookies are golden brown (these cookies are thin, so be careful to not burn). Remove from oven and let cool for a few minutes before transferring to wire racks to finish cooling. Enjoy!

NUTRITION INFO
(per 3 cookies
155 calories, 3.5g protein, 29 g carbs (.5g fiber), 2.5g fat

RELATED CONTENT
Fit Fixins: Pumpkin Spice Pancakes
Oatmeal Crisp Baked Apples
Fit Fixins: Baked Egg & Bacon Avocado
Fit Fixins: Mini Italian Omelet Muffins
ABOUT ALLISON FRAHN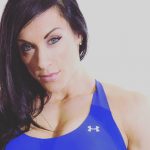 Allison is a five-time IFBB Figure Olympian who has a passion for healthy, yet delicious cooking. Allison owns Alli's Slim Pickins, Inc., a healthy food and recipe-based company. She is excited to share her years of experience with you and provide healthy recipes that proclaim her slogan: 100% Taste & 0% Guilt.
Want more recipes? Purchase Ali's recipe e-book here!