Not only are overnight oats a bit of a time saver in the morning, but it is a nice, cool alternative to a steamy bowl of oatmeal on a hot summer day.
The beauty of overnight oats is that you can truly create endless varieties with your add-ins. Today, I'm going with a seasonal twist by combining ripe peaches, oranges, and coconut, with a hint of almond in my Tropical Overnight Oats. Enjoy!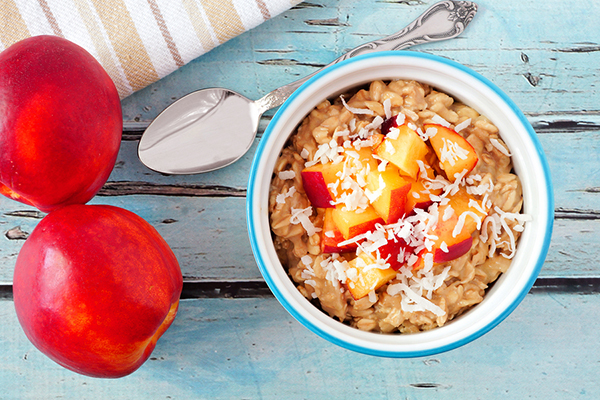 INGREDIENTS
• 1 cup old fashioned rolled oats
• 1 cup nonfat plain Greek yogurt
• 1 cup unsweetened coconut milk
• 1/3 cup granulated stevia, to taste (or preferred sweetener)
• 3 tbsp shredded coconut flakes
• Fresh squeezed juice from 1 small orange
• 1/2 tsp almond extract
• 1/2 tsp vanilla extract
• 1/8 tsp salt, or to taste
• 1 ripe peach, pitted and cut into bite size chunks

PREPARATION
• In a bowl, combine oats, yogurt, coconut milk, stevia, coconut flakes, orange juice, extracts, and salt and mix well to thoroughly combine.
• Next, mix in the diced peaches (you can reserve a portion to put on top or mix it all in) and briefly stir to combine.
• Apportion the oat mixture evenly into two sealable containers and put in the fridge overnight (or at least 4-5 hours). Note, the longer the oats sit the better the flavors will come out and the more oats will absorb the liquid.
•That's it! In the morning, simply grab the containers from the fridge, grab a spoon … and enjoy!

NUTRITION INFO
(per serving; recipe serves 2)
345 calories, 17g protein, 48g carbohydrates (6g fiber), 9.5g fat


RELATED CONTENT
Fit Fixins: Lean Turkey Cheddar Kabobs
Fit Fixins: Chocolate Strawberry Fro Yo Bark
Fit Fixins: Sauteed Veggie Omelete
Fit Fixins: Tuna Poke
Fit Fixins: Dessert Fruit Pizza
ABOUT ALLISON FRAHN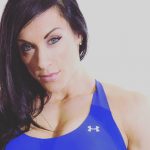 Allison is a five-time IFBB Figure Olympian who has a passion for healthy, yet delicious cooking. Allison owns Alli's Slim Pickins, Inc., a healthy food and recipe-based company. She is excited to share her years of experience with you and provide healthy recipes that proclaim her slogan: 100% Taste & 0% Guilt.
Want more recipes? Purchase Ali's recipe e-book here!