Because sometimes you just want to have a cookie!
If and when you do, you can choose to make them with healthier ingredients in order to bring the calories (and guilt factor) down. It's good to reward yourself every now and again – especially with how hard you work!
So when you know you've earned it, do it with peace of mind My Peanut Butter Chip Oatmeal Cookies have no added sugar and only 5 grams of fat per cookie. Enjoy!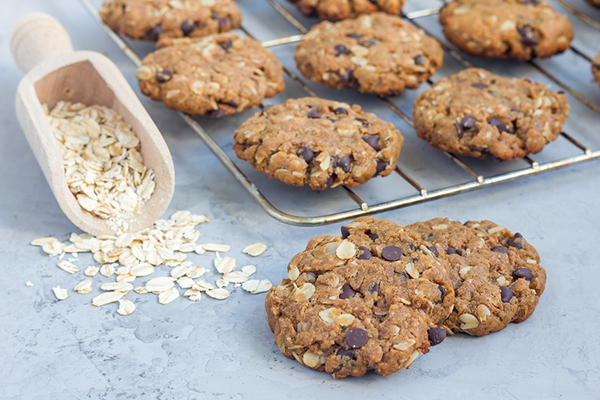 INGREDIENTS
• 1/2 cup old-fashioned rolled oats
• 1/2 cup gluten-free oat flour
• 1/4 cup peanut butter powder
• 1/2 tsp. ground cinnamon
• 1/2 tsp. baking powder
• 1/2 tsp. baking soda
• 1/4 tsp. salt
• 3/4 cup granulated stevia
• 1/3 cup natural creamy peanut butter
• 1/4 cup unsweetened applesauce
• 2 tbsp coconut oil, softened or liquid
• 2 tsp. vanilla extract
• 1 whole egg
• 2 egg whites
• 1/4 cup carob chips (or chocolate chips, if you prefer – note that this will add some sugar)

PREPARATION
• Preheat oven to 350 degrees Fahrenheit.
• Spray a cookie sheet with non-stick cooking spray. Set aside.
• In a mixing bowl, combine the oats, oat flour, pb powder, cinnamon, baking powder, soda, and salt.
• In a separate bowl, combine the stevia, peanut butter, applesauce, coconut oil, vanilla extract, egg, and whites.
• Slowly fold the dry ingredients into the mixing bowl with the wet ingredients and stir until dough is formed. Stir in the carob chips until evenly distributed.
• Use a tablespoon and scoop cookie dough balls, evenly spaced apart, onto the prepared cookie sheet. Flatten with the back of your spoon into a flattened shape, as these cookies will not spread too much. Bake for approximately 8 minutes, or until your desired level of doneness. Note, the more you cook, the harder they will be.
• Remove from the oven and let sit for a few minutes before transferring to a cookie sheet and allow to cool. Enjoy!

NUTRITION INFO
(Per 2 cookies; recipe makes 20)
185 calories, 7 grams protein, 17 grams carbohydrates (2.5 grams fiber), 10 grams fat


RELATED CONTENT
Fit Fixins: Sunny Side Portobello Mushrooms
Fit Fixins: Skinny Shrimp Scampi
Fit Fixins: Fresh Raspberry Lime Sorbet
Fit Fixins: Lemon Ricotta Pancrepes
Fit Fixins: Sweet Potato & Black Bean Quesadilla
Fit Fixins: Tropical Overnight Oats
Fit Fixins: Lean Turkey Cheddar Kabobs
ABOUT ALLISON FRAHN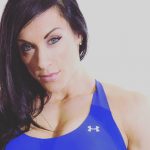 Allison is a five-time IFBB Figure Olympian who has a passion for healthy, yet delicious cooking. Allison owns Alli's Slim Pickins, Inc., a healthy food and recipe-based company. She is excited to share her years of experience with you and provide healthy recipes that proclaim her slogan: 100% Taste & 0% Guilt.