By Allison Frahn

It's almost Easter, but of course life doesn't slow down to allow additional time to prepare for such special holidays. So, the best thing that you can do is serve dishes that are super easy to make, like this ,I>Easy Easter Brunch Casserole. It's a cinch to put together and can even be prepared the day before (just put it in the fridge until ready to bake). Your guests will absolutely love it and it's low in fat and calories so treat yourself to an extra helping – if there are any leftovers. Enjoy!
INGREDIENTS
• 20 oz package fresh shredded hash browns (I like Simply Potatoes brand)
• 6 slices Canadian bacon
• 4 large eggs
• 1 cup egg whites
• 1/2 cup unsweetened almond milk
• 1/2 cup low-fat shredded cheddar cheese
• 1 cup fresh spinach leaves
• 1/2 cup fresh mushrooms, sliced
• 1/3 cup fresh onion, finely chopped
• 1/4 fresh green pepper, finely chopped
• 1/2 tsp dry mustard
• 1/2 tsp each: salt and pepper, or to taste
PREPARATION
• Preheat oven to 350 degrees Fahreheit.
• Spray a 9-inch square casserole dish with non-stick cooking spray. Arrange the Canadian bacon slices on the bottom in a single layer (it's okay if they slightly overlap). Next layer half of the potatoes right on top. Set aside.
• Put 2 large eggs, the egg whites, almond milk, cheddar cheese, spinach, mushrooms, onion, green pepper, dry mustard, and half of the salt and pepper into a large bowl. Whisk to combine.
• Pour the mixture over the potatoes in the baking dish. Put the other half of the potatoes into the bowl that the egg mixture was just in. Add the remaining salt and pepper and toss to coat. Arrange the seasoned potatoes over the top of the egg mixture in the baking dish. Use a spatula to pat everything down so it is evenly distributed.
• Put in the oven and bake for 30 minutes, or until the center is set and the edges start to brown.
• Remove dish from oven and carefully crack the remaining 2 eggs on top (don't break the yolk) and put back into the oven for an additional 7 minutes, or until eggs are just set. Remove from oven and allow to set for 10 minutes before serving. Enjoy!

NUTRITION INFO
(Per serving; recipe serves 4)
215 calories, 19g protein, 22g carbohydrates (3g fiber), 5g fat

RELATED CONTENT
Fit Fixins: Cheesy Baked Tilapia Casserole
Fit Fixins: Orange Cranberry Bundt Cake
Fit Fixins: Homemade Vietnamese Chicken Pho
Fit Fixins: Breakfast Rice Cakes
Fit Fixins: Zesty Low Fat Lemon Bars
ABOUT ALLISON FRAHN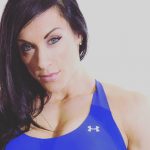 Allison is a five-time IFBB Figure Olympian who has a passion for healthy, yet delicious cooking. Allison owns Alli's Slim Pickins, Inc., a healthy food and recipe-based company. She is excited to share her years of experience with you and provide healthy recipes that proclaim her slogan: 100% Taste & 0% Guilt.
Want more recipes? Purchase Ali's recipe e-book here!