As the weather heats up, it's hard to imagine blasting your indoor oven to enjoy a homemade pizza. Well, here's a perfect alternative that will allow you to still make a healthy, homemade pizza while taking advantage of the great outdoors and keeping your home nice and cool!
My Grilled Vegetable Flatbread Pizza has such an awesome and distinct flavor that comes from grilling it versus the standard bake. What's even better? It has only 7.5 grams of fat per serving and clean up is a cinch.
Enjoy!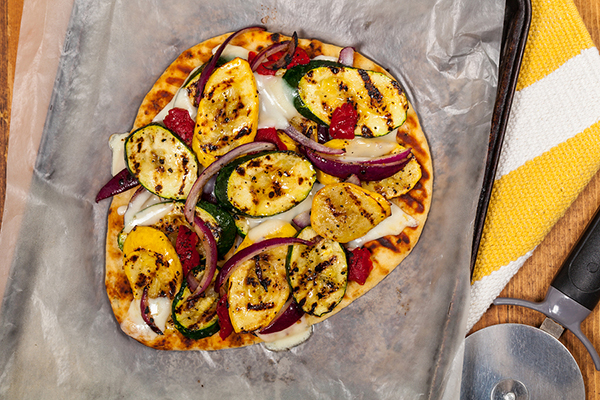 INGREDIENTS
• 2 baked Flatbreads (or Naan)
• 1 zucchini squash, sliced diagonally
• 1 yellow squash, sliced diagonally
• 1/4 red onion, sliced
• 1/3 cup sundried tomatoes
• 1 TB Balsamic vinegar
• 1 tsp. lemon juice
• 2 tsp. oregano
• 1 tsp. granulated stevia
• salt and pepper, to taste
• 4 oz. low-fat mozzarella cheese, sliced
PREPARATION
• Put sliced zucchini and onion in a large bowl. Add the balsamic, lemon juice, oregano, and stevia and toss to coat.
• Heat your outdoor grill to medium heat (or use a large indoor grill pan). Spray the zucchini and onion slices with non-stick cooking spray and season with salt and pepper.
• Grill the zucchini and onions for 5 minutes or until grill marks appear. Flip the veggies and cook an additional 3+ minutes (or until grill marks appear). Remove from heat and put onto a plate. Set aside.
• Spray both sides of flatbread with nonstick cooking spray and sprinkle lightly with salt. Grill both sides of bread until lightly toasted.
• Place flatbread on a lined baking sheet and layer both with mozzarella cheese slices, sundried tomatoes, and grilled veggies. Place under heat just long enough for cheese to melt. Enjoy!
NUTRITION INFO
(per serving; recipe serves 4)
255 calories, 10 grams protein, 38 grams carbohydrates (3.5 grams fiber), 7.5 grams fat

RELATED CONTENT
Fit Fixins: Flank Steak Pinwheels
Fit Fixins: Strawberry Vanilla Oat Parfait
Fit Fixins: Loaded Deviled Eggs
Fit Fixins: Black & Brownies
Grilled Florentine Stuffed Chicken BreastFit Fixins: Healthy Belgian Waffle
ABOUT ALLISON FRAHN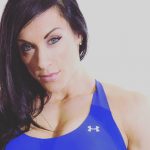 Allison is a five-time IFBB Figure Olympian who has a passion for healthy, yet delicious cooking. Allison owns Alli's Slim Pickins, Inc., a healthy food and recipe-based company. She is excited to share her years of experience with you and provide healthy recipes that proclaim her slogan: 100% Taste & 0% Guilt.
Want more recipes? Purchase Ali's recipe e-book here!