You've seen these massive golden brown treats at your favorite diner but you have avoided them at all costs … because you know that they are probably full of excess fat, calories, and sugar that you simply don't want to eat.
Well, now you can have your waffle (whether your Belgian or not)! My Belgian Waffles have no added sugar, contain only healthy fats, and have only 250 calories per waffle.
Enjoy!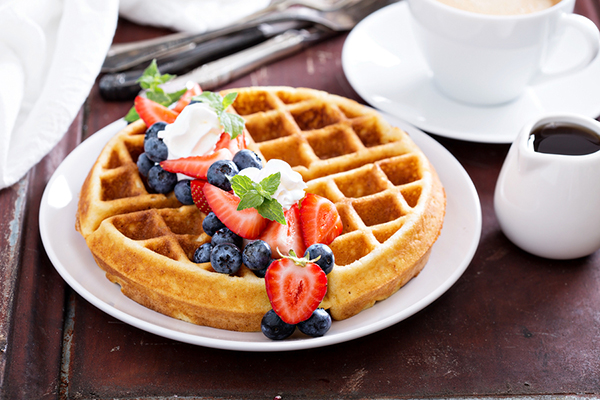 INGREDIENTS
1/2 cup white whole wheat flour
1/2 cup oat flour
1/2 tbsp baking powder
1/2 tsp baking soda
1/4 tsp salt
3/4 cup unsweetened almond milk
1/2 cup unsweetened apple puree
1/4 cup plain nonfat Greek yogurt
1 large egg, lightly beaten
1 tbsp coconut oil, softened
1 tbsp granulated stevia
1 tsp vanilla extract
PREPARATION
• Get that waffle iron all heated up!
• In a large mixing bowl, combine wheat and oat flours, baking powder, soda, and salt and mix well. Set aside.
• In a separate mixing bowl, whisk together milk, apple puree, yogurt, egg, oil, stevia, and vanilla. Mix until well blended.
• Pour the wet ingredients into the bowl with the dry ingredients and mix well until combined. Be careful not to overmix or the batter will become dense.
• Spray the heated waffle iron with non-stick cooking spray, and cook the waffles until nice and golden brown. Enjoy!
TIP: Top your waffle with your favorite sweetener, light whipped cream, fresh fruit, etc. (not included in nutrition)
NUTRITION INFO
(Per waffle recipe makes 3)
250 calories, 11g protein, 32g carbohydrates (4.5g fiber), 8.5g fat


RELATED CONTENT
Fit Fixins: Inside Out Baked Apple Pie
Fit Fixins: Low-Fat Shepherd's Pie
Fit Fixins: Eggplant Pizza Rounds
Fit Fixins: Banana Nut Overnight Oats
Fit Fixins: Grilled Shrimp Tacos
Fit Fixins: Gingerbread Heart Cookies
ABOUT ALLISON FRAHN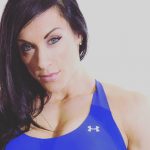 Allison is a five-time IFBB Figure Olympian who has a passion for healthy, yet delicious cooking. Allison owns Alli's Slim Pickins, Inc., a healthy food and recipe-based company. She is excited to share her years of experience with you and provide healthy recipes that proclaim her slogan: 100% Taste & 0% Guilt.
Want more recipes? Purchase Ali's recipe e-book here!