By Allison Frahn
Do you want a scrumptious, "cheese-cakey" treat that's high in fiber, low in calories and, wait for it…has only ONE gram of fat?
Then get ready to whip up my Raspberry Peach Cheesecake Parfait! With only 160 total calories and the above-mentioned 1 gram of fat, it'll taste like you're eating something indulgent – but with none of the guilt.?
Have it for breakfast, an any-time-snack, a pre-workout pick-me-up, or a good old dessert – the possibilities are endless. Feel free to swap the fruit for your favorites. Enjoy!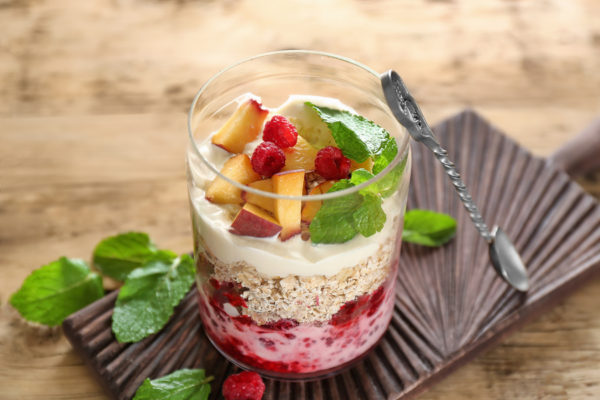 INGREDIENTS
• 1/2 cup fresh raspberries
• 1/2 peach, pitted and diced
• 1/2 cup nonfat Ricotta cheese
• 1/4 cup oats
• 4 tsp granulated stevia
• 2 tbsp nonfat cream cheese
• 2 tbsp granulated stevia, more or less, to taste
• 2 tsp coconut flour
• 1/4 tsp vanilla extract
• 1/4 tsp salt, plus extra
Topping: mint leaf


PREPARATION
• In a mixing bowl, combine Ricotta cheese, cream cheese, stevia, coconut flour, vanilla extract, and salt. Mix with a fork until smooth.
• Spoon half of this mixture into a separate bowl and add ¼ cup raspberries. Crush raspberries with a fork and mix until well blended.
• Now comes the layering. Put 2 glasses side by side to layer both at the same time. Divide and spoon the raspberry mixture evenly into the bottom of both glasses (note: the cleaner that you do this, the prettier it will look so try to avoid getting the mixture onto the sides of the glass).
• Next, spoon half of the oats on top of the raspberry mixture and sprinkle each with 1 tsp of stevia and a pinch of salt. Then, divide and spoon the plain ricotta mixture on top of the oats.
• Dice the peach. Divide diced peaches and remaining raspberries and spoon on top. Put in the fridge and allow to fully chill and set for at least one hour.
• Garnish with a mint leaf if you feel like being fancy. Bonus: you can treat like overnight oats and make the night before. Enjoy!
NUTRITION INFO
(Per parfait; recipe makes 2 servings)
155 calories, 12g protein, 24g carbohydrates (5g fiber), 1g fat

RELATED CONTENT
Fit Fixins: Pumpkin Spice Latte
Fit Fixins: Chicken Salad Avocado Boats
Fit Fixins: Raspberry Banana Protein French Toast
Fit Fixins: Zesty Cranberry Kale Quinoa Salad
Fit Fixins: Low-Fat Vanilla Protein Cheesecake

ABOUT ALLISON FRAHN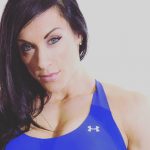 Allison is a five-time IFBB Figure Olympian who has a passion for healthy, yet delicious cooking. Allison owns Alli's Slim Pickins, Inc., a healthy food and recipe-based company. She is excited to share her years of experience with you and provide healthy recipes that proclaim her slogan: 100% Taste & 0% Guilt.
Want more recipes? Purchase Ali's recipe e-book here!