By Allison Frahn

If you ever crave something savory that has the taste of indulgence without the guilt, then this recipe is perfect for you. These fritters use Butternut squash and zucchini instead of potato and I cut down on whole wheat flour, and use coconut flour for a lower carb option. I also use fresh herbs to give them even more flavor. Enjoy!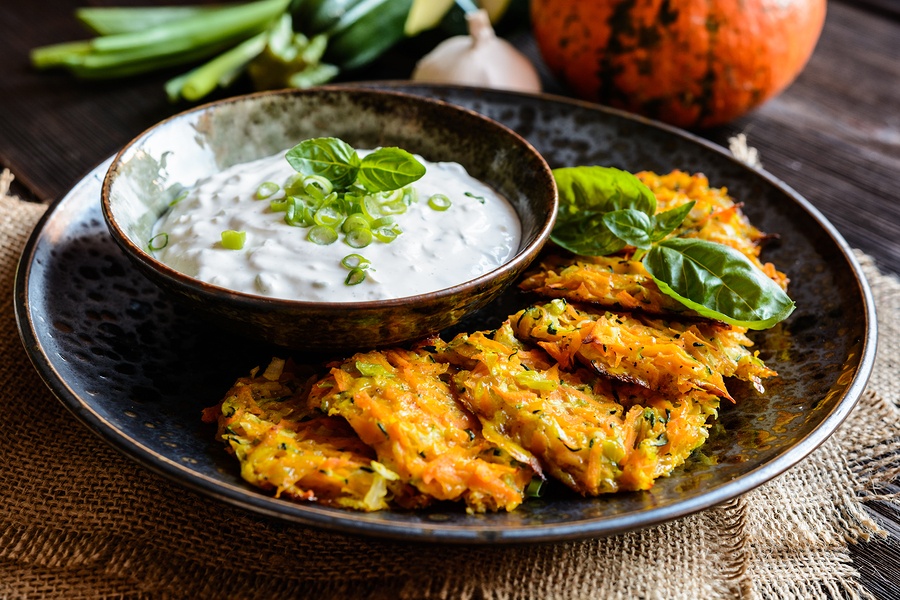 INGREDIENTS
• 1 pound butternut squash, peeled and grated
• 2 medium zucchinis, grated
• 1/4 cup white whole wheat flour
• 1/4 cup low-fat shredded cheese
• 1 tbsp coconut flour
• 2 whole eggs
• 1 tsp baking powder
• 1 tbsp fresh parsley, chopped
• 2 chive onions, thinly sliced
• 1 tbsp fresh cilantro, finely chopped
• 1 tbsp fresh thyme, finely chopped
• 1/2 tsp salt, or to taste
• 1/4 tsp ground black pepper
• 1 tbsp coconut oil, divided
Dip:
• 1/2 cup nonfat plain Greek yogurt
• 1/4 cup low fat sour cream
• 1 chive onion, thinly sliced
• 1 tsp onion powder
• pinch salt, or to taste
PREPARATION
• Make the dip first by combing all ingredients in a bowl and mixing well. Put in fridge.
• Add grated butternut squash and zucchini to a colander, add 1/2 tsp salt and mix through (this will help to release excess moisture). Let sit for at least 15 minutes, then squeeze out as much excess moisture as possible (you will need the veggies to be as dry as possible to cook well).
• In a large bowl, combine with all remaining ingredients (except for the coconut oil) and mix well.
• Place a large skillet over low-medium heat. Spray with non-stick spray and add 1 tsp coconut oil. Scoop out a heaped spoonful of the fritter mixture and place in the and slightly flatten with the back of the spoon. Cook 4 at a time, making sure the edges don't touch.
• Cook for 3-4 on each side, or until golden brown and firm. Remove from the pan and drain on paper towels.
• Repeat steps 3 and 4, two more times to use all batter to make 12 fritters. Serve with the dip and enjoy!
NUTRITION INFO
(Per 3 fritters plus 1/4 dip; recipe makes 12)
220 calories, 11g protein, 22g carbohydrates (4g fiber), 10g fat
RELATED CONTENT
Fit Fixins: Goat Cheese Primavera Quichettes
Fit Fixins: Chipotle Lime Cauliflower Steaks
Fit Fixins: Spicy Quinoa Stuffed Poblano Peppers
Fit Fixins: Apple Carrot Cake Muffins
Fit Fixins: Grilled Romaine BLT
ABOUT ALLISON FRAHN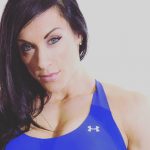 Allison is a five-time IFBB Figure Olympian who has a passion for healthy, yet delicious cooking. Allison owns Alli's Slim Pickins, Inc., a healthy food and recipe-based company. She is excited to share her years of experience with you and provide healthy recipes that proclaim her slogan: 100% Taste & 0% Guilt.
Want more recipes? Purchase Ali's recipe e-book here!