Stress plus temptation equals danger when it comes to overindulging. What better time for this disastrous combination than the holidays?
Fortunately, with signs of how many days are left until Christmas everywhere, we have plenty of time before the holidays arrive to develop a battle plan of how we're going to stick to our fitness goals. Right?
So why is it that – even though we have weeks to plan and prepare for the holiday stresses and temptations – many of us make the same promise year after year: This year I will make it through the holidays and stick to my diet without gaining a single pound!
SELF-NEGOTIATIONS ARE A RED FLAG
So with a battle plan in hand you attend a holiday party. And with healthy choices available, you are confident in your ability to stick to your goals. You even planned ahead to allow yourself one 5 oz glass of red wine.
Then you start talking with someone about a stressful situation and that person offers to get you another glass of wine. You told yourself you would only have one, but you don't want to be rude (you start negotiating with yourself) so instead of a polite "no thank you," you accept the second glass of wine.
After two glasses of wine your inhibitions begin to go out the window, so you start eyeing the array of holiday food that you never planned on touching. Before you know it, you are negotiating with yourself again and thinking Well, New Year's is just around the corner and I'll be super strict then. Since there won't be any more holiday temptations, it will be easier to stick to my goals starting January 1!
TAKE CONTROL NOW
While the start of a new year can be a great thing to look forward to – and a great starting point for fitness programs – don't allow it to be an excuse to slack off in the present. Take control! Or at the very least, maintain some level of control.
Otherwise you will keep doing the same thing over and over: telling yourself every year that you won't fall off the fitness wagon during the holidays, then scooping yourself back up as a New Year's resolution. Even if you allow yourself to loosen the reigns a little bit (be careful doing that and make sure you don't loosen them too much) you can still enjoy the holidays without completely throwing your hands up in the air and saying Heck with dieting and exercising the last two weeks of December, that's what New Year's is for!

TIPS FOR STAYING ACCOUNTABLE & ON TRACK
Will this year be different? That's up to you – but it can be! With the following tips and a good dose of willpower, you can maintain control throughout the holidays and stay on track with your goals into the New Year!
1. Food journal. Even at parties, do your best to track your nutrition as much as you can. This will allow you to stay accountable and consistent all year.
2. Allow yourself a few small cheats, as long as you set boundaries and stick to them (portion size, staying with specific cheat foods, etc.) and enter your cheat foods in your food journal to stay accountable.
3. Be mindful of alcohol consumption. The danger is not necessarily the calories alone from indulging too much, but alcohol can also start impairing your judgment and you could be more susceptible to giving in to off-limit foods.
4. Stick to a structured exercise routine as closely as possible. If you know you will be short on time or have days where you can't get all your exercises in, plan to do a few total body acceleration workouts in order to get your strength-training and cardio workouts done in a short amount of time.
5. Be aware of self-negotiations. If you told yourself you would or wouldn't do something in order to stick to a goal, don't start negotiating. This should be a red flag that you are coming up with excuses and reasons why you should allow yourself to deviate from your goals. Once you open this can of worms, it could lead to more negotiating – which could end up completely sabotaging your goals.
RELATED CONTENT
Tip Me Tuesday: The All-Or-Nothing Trap
Tip Me Tuesday: The Cost Of Health
Tip Me Tuesday: The Struggle Is Real
Tip Me Tuesday: Know Your Body Inside And Out
Tip Me Tuesday: No Pain, No Gain (Sometimes)
ABOUT NAOMI RABON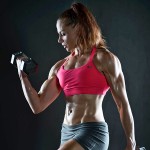 One of the trainers on Nicole's elite NW Fitness Training Team, Naomi is a certified Personal Trainer and Fitness Specialist through the National Academy of Sports Medicine. She is a NPC Figure competitor who has been involved in the health and fitness industry for over 12 years.
Go here to find out more about training with the NW Fitness Training Team!