By Allison Frahn
Shrimp scampi – the one you'll find at most restaurants – typically contains an excess amount of fat and calories due to the addition of unnecessary amounts of butter and oil.
To top it off, it's usually presented on a huge plate of linguini. Well, if this doesn't fit your nutrition plan – and I'm pretty sure it won't! – I've got a much healthier solution – my Skinny Shrimp Scampi recipe!
Enjoy!?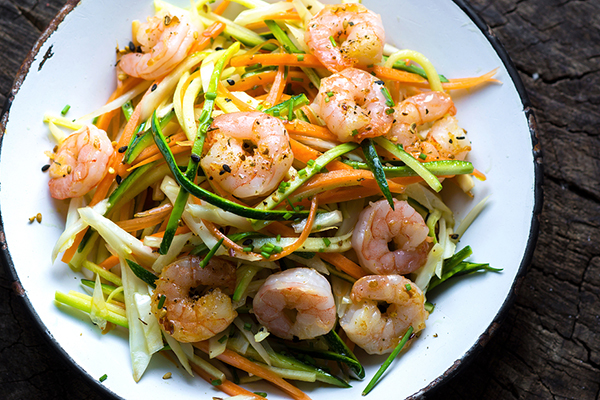 INGREDIENTS
• 1 tbsp olive oil
• 1-2 cloves garlic, minced
• 1 lb. fresh shrimp, peeled and deveined, tails removed
• 1 cup fresh zucchini, julienne
• 1/2 cup fresh carrots, julienne
• 1/2 cup shredded green cabbage
• 1 tbsp finely chopped green onion
• 1/4 cup fresh lemon juice
• 1 tbsp white wine vinegar
• 2 tbsp grated Parmesan cheese
• 1 tsp salt, or to taste
• 1/2 tsp black pepper
• Pinch red pepper flakes (optional)
• 1/2 tsp sesame seeds for garnish (optional)
PREPARATION
• Spray a large skillet or wok with non-stick cooking spray and place over medium-high heat. Add olive oil, garlic, and shrimp. Cook for approximately 5 minutes, or until garlic becomes fragrant and shrimp start to turn light golden brown.
• Reduce heat to medium and add zucchini, carrots, cabbage, onion, lemon juice, and vinegar. Stir together and cook for an additional 6-7 minutes, or until veggies are slightly tender and shrimp are fully cooked through.
• Season with parmesan cheese, salt, black and red pepper. Transfer to a serving plate and garnish with a few sesame seeds (optional). Enjoy!
NUTRITION INFO
(Per serving; recipe serves 2)
320 calories, 48g protein, 11g carbohydrates (3g fiber), 9.5g fat
RELATED CONTENT
Fit Fixins: Fresh Raspberry Lime Sorbet
Fit Fixins: Lemon Ricotta Pancrepes
Fit Fixins: Sweet Potato & Black Bean Quesadilla
Fit Fixins: Tropical Overnight Oats
Fit Fixins: Lean Turkey Cheddar Kabobs
Fit Fixins: Chocolate Strawberry Fro Yo Bark
Fit Fixins: Sauteed Veggie Omelete
ABOUT ALLISON FRAHN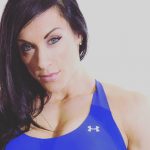 Allison is a five-time IFBB Figure Olympian who has a passion for healthy, yet delicious cooking. Allison owns Alli's Slim Pickins, Inc., a healthy food and recipe-based company. She is excited to share her years of experience with you and provide healthy recipes that proclaim her slogan: 100% Taste & 0% Guilt.