Summer approaching fast – if you're not feeling "beach ready" just yet, don't worry. There's still time to get there by July 4 weekend if you enter my 30 Day Summer Shred Challenge!
Everything in this program is laid out for you, step-by-step, to take all of the guesswork out of getting in shape – what you should be eating for each meal of the day, workouts with video demonstrations for every exercise so you know exactly what to do in the gym, my cardio routines to help you lose body fat (fast!) and much, much more.
The program includes three different workout plans – two at-home programs and one gym plan. So you can do every workout from home, with minimal equipment, and still see amazing results!
Check out a sample at-home workout from one of my previous Summer Shred Challenges – all you need is a pair of dumbbells and your own bodyweight for this upper-body focused session!
I create all of my Challenges from scratch, so every program is different from the last – new workouts, new exercises, new meal plans, new recipes and more!
Give it a try and make sure to click the graphic below to check out this year's Summer Shred Challenge starting on May 30 (signups end May 29)!

At-Home Upper Body Workout
(click the image to enlarge and save)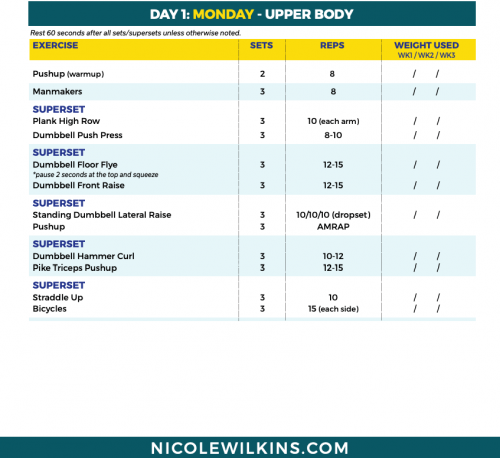 Pushup (warmup)
Sets: 2
Reps: 8
Manmaker 
Sets: 3
Reps: 8
Superset
Plank High Row 
Sets: 3
Reps: 10 (each arm)
Dumbbell Push Press
Sets: 3
Reps: 8-10
Superset
Dumbbell Floor Flye
Sets: 3
Reps: 12-15
Dumbbell Front Raise
Sets: 3
Reps: 12-15
Superset
Dumbbell Front Raise
Sets: 3
Reps: 10/10/10 (drop set*)
*Drop Set Start with a heavy weight – one you can do for 10 reps, struggling on the last 3-4 (if you're not struggling ,the weight is too light). After reaching 10 reps, you will "drop" (decrease) the amount of weight you are using and then immediately perform another set of 10 reps. Decrease the weight one more time and immediately perform one more set with of 10 reps.
Pushup
Sets: 3
Reps: AMRAP (as many reps as possible)
Superset
Dumbbell Hammer Curl
Sets: 3
Reps: 10-12
Pike Triceps Pushup
Sets: 3
Reps: 12-15
Superset
Straddle Up
Sets: 3
Reps: 10
Bicycles
Sets: 3
Reps: 15 (each side)
Not entered in the 30 Day Summer Shred Challenge? Click the graphic below for more info!