By Allison Frahn
Some of my favorite recipes are the ones that require no cleanup once you're done eating because, well, you eat the whole thing so there's nothing left to clean up! A perfect example of this are my Ranch Tuna Salad Stuffed Tomatoes that are prepared with all fresh ingredients and are so incredibly flavorful.
This dish is a great alternative to a typical tuna salad sandwich if you're looking to avoid bread and clocks in only 11 grams of carbs for the entire stuffed tomato. You won't feel like you're missing out from not having the bread, as the tomato provides a hearty substance and is quite filling. It's such a beautiful dish once prepared that it's almost too pretty to eat (almost). Enjoy!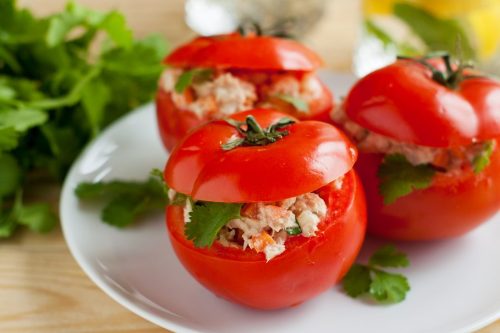 INGREDIENTS
• 3 fresh ripe tomatoes, cored
• 12 oz canned tuna, drained
• 1/4 red bell pepper, finely diced
• 1 stalk celery, finely diced
• 2 tbsp onion, finely diced
• 1 sprig fresh parsley, finely chopped
• 2/3 cup plain Greek yogurt (I used whole milk version for this recipe)
• 1 tbsp ranch dry seasoning mix
• 1 tbsp red or white vinegar
• salt and pepper, to taste
PREPARATION
• To core a tomato, begin by pulling the stem off with your fingers. Next place the tomato upright onto a flat surface and gently insert a knife into the top center and press the blade in about ½ inch deep. Hold the tomato firmly with your other hand and use the knife to cut a small circle around the center, rotating the tomato until you have sliced all the way around the top. Pull out the core and either dispose of it or use for garnish. Use a spoon to scoop out a bit of the center to create a space to stuff the tuna salad. Repeat with all tomatoes.
• In a bowl, mix together tuna, bell pepper, celery, onion, parsley, yogurt, ranch seasoning, white vinegar, and salt and pepper until well mixed.
• Evenly divide the tuna mixture into each of the bell peppers. Put in the fridge (or if you're going to eat soon you can let sit on counter) for at least 30 minutes to allow all flavors to come together. Dig in and enjoy!
NUTRITION INFO
(Per tomato; recipe makes 3)
220 calories, 32g protein, 11g carbohydrates (2g fiber), 5g fat
RELATED CONTENT
Fit Fixins: Light Lemon Poundcake
Fit Fixins: Breakfast Pizza Cups
Fit Fixins: Buffalo Chicken Stuffed Squash
Fit Fixins: Strawberry Shortcake Oat Parfait
Fit Fixins: Asian Style Chicken Lettuce Wraps
ABOUT ALLISON FRAHN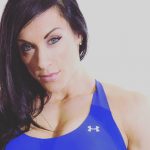 Allison is a five-time IFBB Figure Olympian who has a passion for healthy, yet delicious cooking. Allison owns Alli's Slim Pickins, Inc., a healthy food and recipe-based company. She is excited to share her years of experience with you and provide healthy recipes that proclaim her slogan: 100% Taste & 0% Guilt.