There are few things more satisfying than setting a goal and doing everything in your power to finally achieve it.
Reaching a goal is difficult – most things worthwhile are – especially when it seems like the finish line is miles away. But those who are driven to succeed keep at it, building strength and confidence with each new challenge they overcome on their journey.
Suzanne Angle knows that feeling well. In 2002, at the age of 36, Suzanne found herself weighing 447 pounds. Stomach surgery helped her drop 200 pounds, but after seeing her weight plateau at around 230 for a few years and even increase slightly, she decided the only way to reach her goals was by exercising more and eating healthier.
So that's what she did.
In 2015, Suzanne dedicated herself to living a healthier lifestyle. Her journey led her to the Nicole Wilkins fitness community, and she felt motivated to enter my 10 Week Photo Shoot Ready Challenge last year – and what a transformation she made!
When I saw Suzanne's posts in the Nicole Wilkins Fitness Community Facebook Group, I was so inspired by her that I wanted to share her story with everyone here by making her the next profile in our Goal Getter series.
Suzanne took the time to tell her story in her own words, so I hope you'll find her journey as inspiring as I do!
And for all you other Goal Getters out there who are working hard to achieve your dreams, drop us a line at [email protected]. We would love to hear your story!
Written By Suzanne Angle
A ROUGH START
I was never athletic growing up, in fact, I hated sports. I was the chubby girl that was always chosen last when picking teams. My first time in a gym/fitness center was in the mid 1980's. I wanted to lose some weight and expressed a desire to learn how to lift weights. The trainer that was assigned to me only allowed me to do cardio. He explained that lifting weights would only make me gain weight. I was able to lose weight riding the stationary bike and walking on the treadmill but found it incredibly boring. I kept watching people lifting weights and THAT'S what I wanted to do but I was told NO. I grew tired of the boring cardio and finally quit the gym.
REINVENTION
My weight increased year by year until I topped out at 447 pounds by the age of 36. At that time I had stomach surgery and dropped weight quickly. I hovered around 230 pounds for years. I dealt with a number of bad events in 2008 that included my children growing up and leaving home, my relationship failing, and the death of my 46-year old sister-in-law. I was a mess.
I was put into contact with a woman who helped me see that life was far from over and that now was the time I could take for ME. She encouraged me to reinvent myself. I decided to go back to the gym and this time I would learn how to lift weights and get into better shape. A trainer showed me the machines and how to use them, and I fell in love. I read every fitness magazine I could get my hands on and developed my own routines. I dropped 70 pounds and gained a lot of muscle in nine months. I loved my gym time and went for years until I developed a pinched nerve in my neck that prevented me from lifting. I suffered from intense pain for 2 years and the doctors did little to help me.
I finally found help through chiropractic and massage therapy and got my life back. Fearfully, I got on the scale and found I had ballooned up to 257 pounds. I told my husband, "It stops here!" I got back into the gym, starting lifting again and embarked on a clean eating lifestyle. I dropped the weight and built myself back up again.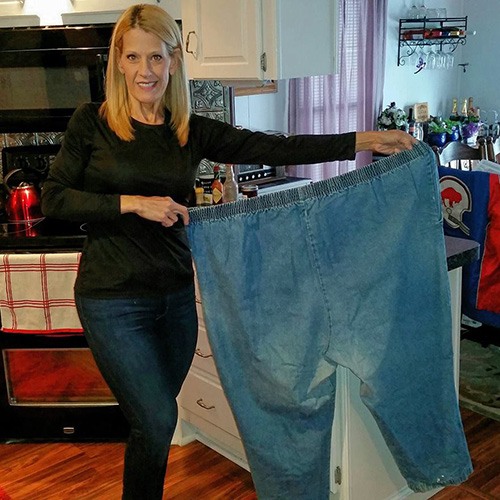 THE MISSING PIECE
In the summer of 2017, I felt stuck in my workouts and hired a trainer at my gym. I worked with her for a year and she kept trying to get me to do a figure competition. The fat girl inside of me couldn't even fathom getting on stage in a bikini and the thought of it actually terrified me.
I was going through the process of having excess skin surgically removed and my hard work was finally starting to show. I decided to enter the transformation division of a local show. Where I feel my trainer failed me was in the nutrition area. She never talked to me about what to eat, macros, or timing of meals in relation to exercise, etc. I knew something was missing.
I was spending a lot of time in figure competition Facebook groups and reading about diet and how important it is for those that compete. I came across the Nicole Wilkins Community Facebook Page and joined.
I realized this was the element I was missing and without this knowledge, I was never going to be fully successful. I had a few months before the October competition and I felt I needed a structured plan in place. So I purchased Nicole's 10 Week Photo Shoot Ready Challenge.
I'd never done a structured eating plan before and it seemed really overwhelming but I read all of the posts on her Facebook page and worked through my struggles.  I really enjoyed the food on the plan, especially Cheerios!  Seriously, I could eat Cheerios!
I loved the banana protein bread too, so much so that I still make it weekly. And the workouts were amazing! My favorite workouts are shoulders and back as they are my strong suit.
DISCOVERING ME
What I learned about myself is that I'm stronger than I thought I was, yet not as strong as I think I am.I found that I could push myself harder than I'd ever done before physically, yet I would break down emotionally as the weeks wore on. It got harder.
I knew I had a goal to reach of being in the figure transformation competition but before that, I had to finish the Challenge and I wanted to come in strong. I could hardly believe the changes in my body composition when I took my final pics. I got a taste of how hard people have to work to be figure competitors and I came to appreciate it.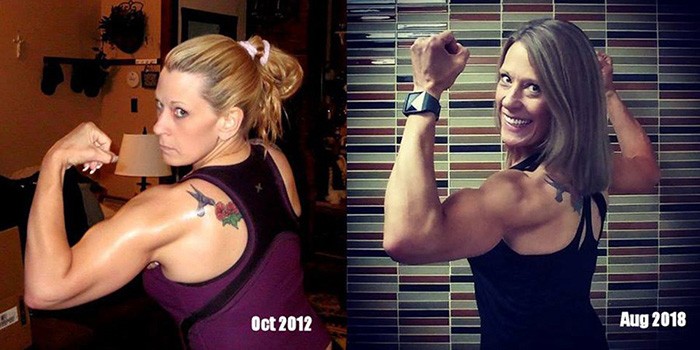 NO RESTRAINT
I didn't cheat on my diet but I will admit that I didn't do all of the prescribed cardio. I have really bad knees so cardio is difficult for me. I did as much as my knees would allow and it was frustrating, to say the least.
I had to accept a long time ago that my years and years of being morbidly obese took its toll on my body. I'm fighting against these things every day. I refuse to let my aches and pains hold me back from being the best I can be. I love being able to inspire others in their own journey towards health and wellness. It isn't about the goal, it's about the journey.
Having my story in the public eye helps to keep me accountable. Never wanting to be obese again keeps me accountable. Being the best wife, mother, daughter, sister, and friend helps to keep me accountable. Sure there are days I don't want to work out but going backward isn't an option.
My best piece of advice: none of us is promised a tomorrow so choose to live each day fully. My hope and prayer is for people to celebrate each day, love with their whole heart, and live life with passion.