By Allison Frahn
Cookies for breakfast? Why not!
This recipe gives you a nice alternative to your standard hot bowl of oatmeal. They have only 95 calories per cookie, so go ahead and have a couple! If you want, enjoy with a nice, cold protein shake for a quick meal on-the-go, or serve along side your favorite omelette.
Enjoy!
INGREDIENTS
• 1 cup old-fashioned rolled oats
• 3/4 cup granulated stevia
• 1/3 cup raisins
• 1/4 cup white whole wheat flour
• 1/4 cup ground flax seeds
• 1 tsp ground cinnamon
• 3/4 tsp baking powder
• 1/2 tsp baking soda
• 1/2 tsp salt, or to taste
• 1/4 tsp ground nutmeg
• 1/2 cup unsweetened applesauce
• 2 egg whites
• 2 tbsp coconut oil, softened or liquid
• 1 tbsp vanilla extract
PREPARATION
• Preheat the oven to 350 degrees
• Spray a baking sheet with non-stick cooking spray or line with parchment paper. Set aside.
• In a mixing bowl, combine oats, flour, stevia, flax seed, cinnamon, baking powder, baking soda, salt, and nutmeg and mix well.
• In a separate bowl, combine applesauce, raisins, egg whites, coconut oil, and vanilla extract and mix well. Add the wet ingredients to the dry ingredients and mix until all ingredients are well blended and a crumbly dough is formed.
• Using a standard tablespoon measuring spoon, drop dough onto baking sheet. Press down lightly with back of spoon or use your fingers to slightly flatten cookies.
• Bake for 12-15 minutes depending upon how crunchy you like your cookies: Ttke them out while the center is still soft but the edges have set ( if you like a chewy cookie) or let them bake an extra few minutes if you prefer a crunchier cookie.
• Let cool for a few minutes before transferring to a wire rack to cool completely. Enjoy!
NUTRITION INFO
(per cookie; recipe makes 12)
95 calories, 2.5g protein, 13.5g carbohydrates (1.5g fiber), 3.5g fat

RELATED CONTENT
Fit Fixins: Grilled Vegetable Flatbread Pizza
Fit Fixins: Flank Steak Pinwheels
Fit Fixins: Strawberry Vanilla Oat Parfait
Fit Fixins: Loaded Deviled Eggs
Fit Fixins: Black & Brownies
ABOUT ALLISON FRAHN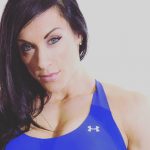 Allison is a five-time IFBB Figure Olympian who has a passion for healthy, yet delicious cooking. Allison owns Alli's Slim Pickins, Inc., a healthy food and recipe-based company. She is excited to share her years of experience with you and provide healthy recipes that proclaim her slogan: 100% Taste & 0% Guilt.
Want more recipes? Purchase Ali's recipe e-book here!