It's that time of year again!
Time to break out the decorations,  make plans for special get-togethers with friends and get ready for some travel to spend time family … that's right, it's the holidays!
I hope you all have people in your lives to see during this time, whether it's friends or family – or (hopefully) both 😉
So first and foremost, please make sure to appreciate and be grateful for the time you get to share with your loved ones, and don't stress out over every little detail or missed workout.
That said, you also don't want to completely forget about all of the hard work you've put in over the past 11 months (or longer) and wake up on January 1st wondering how you let things get so far off track.
So with that in mind, here's some help – my annual Holiday Workout Calendar!
It's a workout plan designed to get you through the holiday season, starting the Monday after Thanksgiving through New Year's Eve.
Hopefully it will help you challenge yourself and stay on track while still having plenty of time to enjoy the season.
This calendar is a mix of gym and at-home workouts, but there are at-home variations (and in some cases alternative at-home workouts) for each session.
I have scheduled these workouts on the calendar for Monday through Thursday of each week to give you the weekends off, but feel free to slot them in on any days you want. Just make sure you are doing them in the order they are laid out.
I hope you enjoy the workouts, but more importantly –  I hope you enjoy the holidays!
Not a member? Check out a FREE preview of your Day 1 workout!
Then sign up here for just $9.95 a month to view all of the Holiday Workout Calendar workouts!
If you are a member – just click on the image below to view the interactive calendar. Once you are there, just click on any day of the week to view that workout video!
THE CALENDAR
All of the workouts are linked from each day of this calendar, just click on a day to view the workout!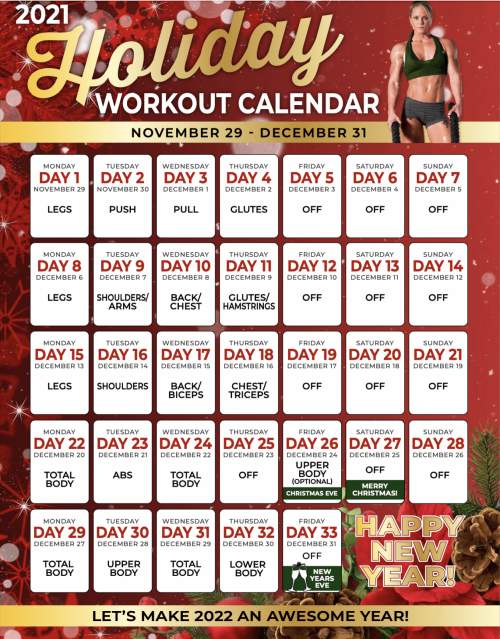 If you are having trouble viewing the calendar, click this link to open and view.
LINK: 2021 Holiday Workout Calendar
CARDIO & ABS
I recommend doing cardio a minimum of three times a week, especially if you will be indulging a little bit more than usual over these next few weeks.
Which days you perform your cardio are up to you – just add it in whenever you have the time. I have listed some suggested workouts below, but feel free to add your favorites.
As far as abs, I typically try to shoot for 1-2 days of core work a week during any maintenance phase, but feel free to do more if you feel like it!
Cardio Workouts
• Bench Tabata Cardio Workout
• Bodyweight Cardio Circuit
• Cardio Acceleration Abs Workout (can be used for both abs and cardio)
• Speed Ladder Cardio Circuit
• Tabata Board Circuit Workout
• 6-Minute Bodyweight HIIT Workout
Ab Workouts
• Giant Set Ab Workout
• Medicine Ball Workout
• Ab Superset Workout
• Giant Set Ab Workout