When your sweet tooth kicks in, having delicious and healthy snacks available at your fingertips can be the perfect solution to curb those cravings and avoid a high calorie indulgence.
These Almond Butter Protein Bites are super dense, so just one bite can truly leave you satisfied – and give you just the boost you need to carry on your day.
Enjoy!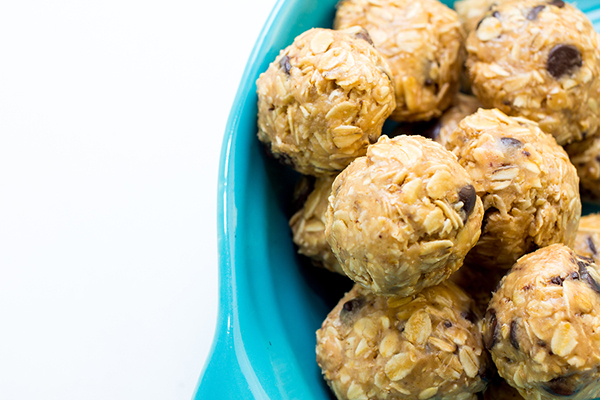 INGREDIENTS
• 1/2 cup old-fashioned rolled oats
• 1/2 cup almond butter
• 2 scoops nPower Vanilla Cupcake Isolate protein powder
• 2 tbsp coconut flour
• 1/4 cup unsweetened almond milk (more or less, depending upon desired consistency)
• 2 tsp Truvia Nectar (one of my new finds and I love it..you can sub SF maple syrup or honey)
• 1 tsp vanilla extract
• 2 tbsp mini chocolate chips

PREPARATION
• Put all ingredients into a bowl and mix to combine well and form a thick and sticky dough. Put the bowl in the fridge for about 20 minutes (this will make it easier to roll the balls).
• Remove bowl from fridge. Spoon a portion of the dough into your hand and roll into a ball with your palms. Repeat until you make 12 balls.
• If you are having difficulty getting the balls to stick together, add a bit more almond milk to the dough. If the dough is too sticky, try adding some coconut flour to your palms before rolling.
• Store extra bites in an airtight container in your fridge. Enjoy!
NUTRITION INFO
(Per bite/ball; recipe makes 12 servings)
115 calories, 5.5g protein, 7g carbohydrates (1g fiber), 7.5g fat

RELATED CONTENT
Fit Fixins: Crispy Apple Cinnamon Chips
Fit Fixins: Pumpkin Chocolate Chip Muffins
Fit Fixins: Grande Chicken Bowl
Fit Fixins: Frosted Carrot Cake Overnight Oats
Fit Fixins: Skinny Butternut Squash Fries
ABOUT ALLISON FRAHN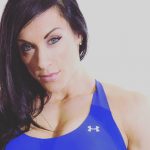 Allison is a five-time IFBB Figure Olympian who has a passion for healthy, yet delicious cooking. Allison owns Alli's Slim Pickins, Inc., a healthy food and recipe-based company. She is excited to share her years of experience with you and provide healthy recipes that proclaim her slogan: 100% Taste & 0% Guilt.