This is a lean spin on the traditional meat kebabs, which are typically high in fat and calories. Not only are these kebabs a lot healthier, but they are absolutely delicious and super easy to make!
In addition, they are awesome as leftovers (I love eating them cold) so make a bunch and keep for a quick grab-and-go snack.
Enjoy!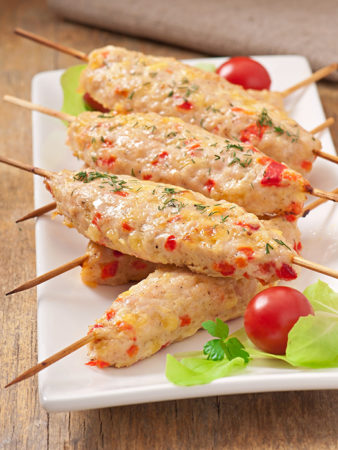 INGREDIENTS
• 20 oz 99% lean ground turkey, raw
• 10 oz 93% lean ground turkey, raw
• 2/3 cup chopped red and yellow pepper
• 1/2 cup chopped onion
• 1/3 cup egg whites
• 1/3 cup oats
• 1/4 cup unsweetened applesauce
• 1/2 cup low-fat shredded cheddar cheese
• 2 tsp minched garlic
• 1 1/2 tsp salt (or to taste)
• 1 tsp poultry seasoning
• 1 tsp ground black pepper
You will need: 6 wooden skewers, soaked in water to prevent burning

PREPARATION
• Put red and yellow pepper, onion, egg whites, oats, and applesauce into a food processor and pulse a few times to blend.
• In a large mixing bowl combine pepper mixture, ground turkey, cheddar cheese, garlic, poultry seasoning, salt, and pepper and mix well. (Get your hands in there and really mush it all together; the more the better!)
• Put in fridge and let sit for a few minutes.
• Remove turkey mixture from fridge and preheat oven to Broil setting.
• To assemble, evenly divide turkey mixture into 6 portions. Put water on your hands to prevent sticking. Take each portion and form around the skewers to form a sausage-like shape.
• Place the kebabs on a cookie sheet lined with aluminum foil. Broil in oven for about 6-8 minutes (or until fully cooked through), rotating halfway in order to evenly brown (note: you can also put these on the grill if you prefer). Enjoy!
NUTRITION INFO
(Per kebab; recipe makes 6)
230 calories, 36g protein, 6.5g carbohydrates (1g fiber), 7g fat


RELATED CONTENT
Fit Fixins: Chocolate Strawberry Fro Yo Bark
Fit Fixins: Sauteed Veggie Omelete
Fit Fixins: Tuna Poke
Fit Fixins: Dessert Fruit Pizza
Fit Fixins: Low-Carb Italian Pasta Salad
ABOUT ALLISON FRAHN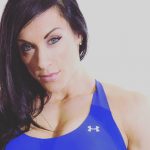 Allison is a five-time IFBB Figure Olympian who has a passion for healthy, yet delicious cooking. Allison owns Alli's Slim Pickins, Inc., a healthy food and recipe-based company. She is excited to share her years of experience with you and provide healthy recipes that proclaim her slogan: 100% Taste & 0% Guilt.
Want more recipes? Purchase Ali's recipe e-book here!