By Allison Frahn
Who would have thought that waffles could be anything but sweet?
This girl!
Typically, waffles are served loaded with butter, fruit, syrup … you name it. However, waffles can be deliciously savory too – especially when adding cheese! Not only are these waffles a-ma-zingly yummy, they are super healthy and low in carbs and fat. This just might put Chicken n' Waffles in a whole new light.
Enjoy!
INGREDIENTS 
• 1 lb fresh zucchini, finely grated
• 1/2 tsp salt
• 1/4 cup grated reduced fat Parmesan cheese
• 3 tbsp white whole wheat flour
• 1 tbsp coconut flour
• pinch dried sage (you could also use fresh herbs such as thyme, marjoram, parsley)
• black pepper, to taste
• 1 large egg, lightly beaten
• 2 egg whites
• 3 tbsp onion, minced or pureed
• 1/2 tsp lemon zest
PREPARATION
• Combine zucchini and salt in a colander (the salt will help to pull the water out of the zucchini, as we want it to be as dry as possible).
• Place colander over a bowl or in the sink and let sit for 15 minutes. Take paper towels and squeeze out as much water from the zucchini as possible (do this in 3 small batches).
• In a large bowl, combine zucchini, Parmesan, flours, herbs, black pepper, eggs, onion, and lemon zest. Mix well.
• Preheat a waffle iron and coat with non-stick cooking spray (unless you have a non-stick iron).
• You will be making 3 servings, so depending upon the size of your waffle iron, make 3 larger waffles or 6 smaller ones, by dividing the batter evenly.
• Add batter to the waffle iron and cook according to your manufacturer instructions, until the waffles are nice and golden brown. Enjoy!
*NOTE: you can use a skillet if you don't have a waffle iron and just make pancakes instead.
NUTRITION INFO
(Per serving; recipe serves 3)
130 calories, 10g protein, 13g carbohydrates (3.5g fiber), 4g fat
RELATED CONTENT
Fit Fixins: Peanut Butter Chip Oatmeal Cookies
Fit Fixins: Sunny Side Portobello Mushrooms
Fit Fixins: Skinny Shrimp Scampi
Fit Fixins: Fresh Raspberry Lime Sorbet
Fit Fixins: Lemon Ricotta Pancrepes
ABOUT ALLISON FRAHN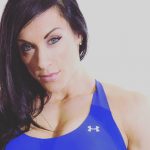 Allison is a five-time IFBB Figure Olympian who has a passion for healthy, yet delicious cooking. Allison owns Alli's Slim Pickins, Inc., a healthy food and recipe-based company. She is excited to share her years of experience with you and provide healthy recipes that proclaim her slogan: 100% Taste & 0% Guilt.