By Allison Frahn

Did you ever want a delicious meal, but also wish that it could just cook itself? Well, you practically can with the help of the brilliant crock pot. Just a little ingredient prep and then you just set it and go! Not only is this dish so incredibly flavorful, but it's super hearty, high in fiber, and has only 9 grams of fat per serving. Enjoy!
INGREDIENTS
• 1 1/2 pounds of beef stew meat, cut into 1-inch pieces
• 4 small potatoes, peeled and cubed
• 1 large onion, diced
• 1 medium green bell pepper, cut into strips
• 1 1/2 cups lower-sodium beef broth
• 1 cup crushed tomatoes
• 2 cloves garlic, finely chopped
• 1/4 cup cold water
• 3 tbsp tomato paste
• 2 tbsp light butter
• 1 tbsp paprika
• 1 tbsp granulated stevia
• 1 tsp salt
• 3/4 tsp ground black pepper
• 1/4 tsp caraway seed
• 1/4 tsp dried marjoram
PREPARATION
• Melt butter in a large skillet over medium high heat. Add onions and garlic and sauté until soft. Add beef and cook until browned.
• Spray slow cooker (I used a 6-quart) with non-stick cooking spray. Add beef mixture and ALL remaining ingredients. Give it a good stir to mix well.
• Cover with lid and cook on low heat setting for 8 to 10 hours, or high heat setting for 5 to 6 hours. That's it! Just serve… and enjoy!
NUTRITION INFO
(Per serving; recipe serves 4)
420 calories, 45g protein, 39g carbohydrates (7g fiber), 9g fat

RELATED CONTENT
Fit Fixins: Baked Broccoli Cheese Bites
Fit Fixins: Apple Pie Protein Smoothie
Fit Fixins: Banana Fudge Protein Pops
Fit Fixins: Easy Easter Brunch Casserole
Fit Fixins: Cheesy Baked Tilapia Casserole
ABOUT ALLISON FRAHN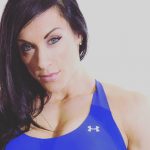 Allison is a five-time IFBB Figure Olympian who has a passion for healthy, yet delicious cooking. Allison owns Alli's Slim Pickins, Inc., a healthy food and recipe-based company. She is excited to share her years of experience with you and provide healthy recipes that proclaim her slogan: 100% Taste & 0% Guilt.