Spice up your day with this ah-mazing, healthy version of one of America's favorite appetizers – the delicious quesadilla!
This treat is normally loaded with calories – but based on my ingredient swaps I've lightened up the party so you can eat without an ounce of guilt! In fact, I think it almost tastes better than the "real thing".
It's so good you might want to eat the whole thing as a meal, or share it amongst your family and friends as a snack or appetizer. Enjoy!
INGREDIENTS
• 4 oz raw sweet potato, peeled and diced
• 2 tsp olive oil, divided
• 1/4 tsp ground cinnamon
• Salt and pepper (to taste)
• 1/4 cup diced onion
• 1/4 tsp fresh garlic, minced
• 1/3 cup canned black beans, drained and rinsed
• 1/8 tsp ground cumin
• 1/8 tsp chili powder
• 1 tbsp fresh lime juice
• 2 low carb tortillas (approx. 60 calories each)
• 1/4 cup low-fat shredded cheese

PREPARATION
• Preheat oven to 400 degrees F
• Line a baking sheet with aluminum foil and coat with non-stick spray. Set aside.
• Mix the sweet potatoes, 1 tsp. olive oil, cinnamon, salt and pepper in a bowl and stir to combine. Arrange in a single layer on the baking sheet and roast for 10-15 minutes until tender and golden brown.
• While the potatoes are roasting, add 1 tsp oil to a skillet and place over medium heat. Add onion and garlic and cook for about 2 minutes, or until onions soften.
• Add black beans, cumin, chili powder, salt, and pepper and cook for about 5 minutes, or until beans are softened. Once the potatoes are done, add to the skillet along with the lime juice and mix together well. Cook black bean and sweet potato mixture together for an additional 5 minutes. Remove from heat and transfer to heat safe bowl.
• Wipe out the pan (or use a different pan). Coat pan with non-stick spray and put back over the heat.
• Put one of the tortillas into the pan and add half of the cheese in an even layer. Next, layer the sweet potato and black bean mixture on top, then layer the remaining cheese, and lastly top with the other tortilla.
• Spray the top of the tortilla with cooking spray. Use a large spatula to press down on top of the quesadilla to better seal and combine the layers. Cook for about 3-4 minutes and then gently flip over using the spatula.
• Cook for an additional 3-4 minutes or until golden brown. Repeat the flipping process until you have achieved your desired level of crispiness. Enjoy!

NUTRITION INFO
*Meal (recipe serves 1)
480 calories, 26g protein, 49g carbohydrates (9g fiber), 10g fat
*Snack/App (recipe serves 2)
240 calories, 13g protein, 24.5g carbohydrates (6g fiber), 17.5 grams fat


RELATED CONTENT
Fit Fixins: Tropical Overnight Oats
Fit Fixins: Lean Turkey Cheddar Kabobs
Fit Fixins: Chocolate Strawberry Fro Yo Bark
Fit Fixins: Sauteed Veggie Omelete
Fit Fixins: Tuna Poke
ABOUT ALLISON FRAHN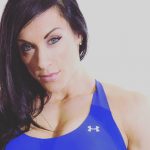 Allison is a five-time IFBB Figure Olympian who has a passion for healthy, yet delicious cooking. Allison owns Alli's Slim Pickins, Inc., a healthy food and recipe-based company. She is excited to share her years of experience with you and provide healthy recipes that proclaim her slogan: 100% Taste & 0% Guilt.
Want more recipes? Purchase Ali's recipe e-book here!