All the flavor of pizza, without the calories, carbs, or fat!
By using eggplant in place of dough for the crust you save a ton of carbs and by reducing the amount of cheese and using a low-fat version we save a ton of fat – so combine both of these and the calorie savings are huge!
In fact, there are only 115 calories and 3.5 grams of fat for 5 slices! Dig in to my Eggplant Pizza Rounds and, as always, enjoy!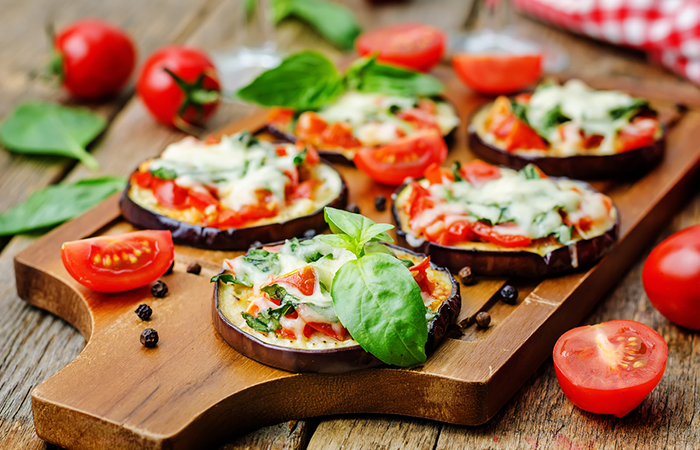 INGREDIENTS
• 1 large eggplant, skin on, sliced into 1/3-inch round slices (approx. 20 slices)
• 1 tsp oregano
• Salt and pepper, to taste
• 3/4 cup marinara sauce (with approx. 60 calories per cup)
• 1/2 cup cherry tomatoes, sliced
• 1/2 cup shredded low-fat mozzarella cheese
• 1/4 cup shredded fresh basil leaves
• Cooking spray

PREPARATION
• Preheat oven to 400 degrees.
• Spray two large baking sheets with cooking spray. Set aside.
• Arrange eggplant slices onto the baking sheets. Lightly coat the top with non-stick cooking spray and then season with oregano, salt, and pepper.
• Bake in the oven for approximately 15 minutes, or until they just start to turn tender (be very careful to not let them become too soft).
• Remove from the oven and spoon marinara sauce in the center of each eggplant slice and then top with sliced tomatoes, shredded basil and mozzarella cheese.
• Put back into the oven and broil (adjust your oven temp) until the cheese has melted and is nice and bubbly, approximately 5 minutes (note, if you like your pizza cheese golden brown, leave in for a bit longer – just watch so that they don't burn). Enjoy!
NOTE: Feel free to add whatever toppings that you wish, such as grilled chicken, mushrooms, onions, etc.

NUTRITION INFO
(Per approximate 5 slices; recipe serves 4)
115 calories, 6g protein, 15.5g carbohydrates (5.5 grams fiber), 3.5g fat
RELATED CONTENT
Fit Fixins: Banana Nut Overnight Oats
Fit Fixins: Grilled Shrimp Tacos
Fit Fixins: Gingerbread Heart Cookies
Fit Fixins: Pumpkin Spice Pancakes
Oatmeal Crisp Baked Apples
Fit Fixins: Baked Egg & Bacon Avocado
Fit Fixins: Mini Italian Omelet Muffins
ABOUT ALLISON FRAHN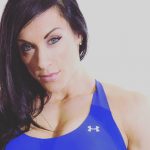 Allison is a five-time IFBB Figure Olympian who has a passion for healthy, yet delicious cooking. Allison owns Alli's Slim Pickins, Inc., a healthy food and recipe-based company. She is excited to share her years of experience with you and provide healthy recipes that proclaim her slogan: 100% Taste & 0% Guilt.
Want more recipes? Purchase Ali's recipe e-book here!