By Allison Frahn
What happens when you put all of your "crust" ingredients inside an apple and bake it? You get an Inside Out Baked Apple Pie!
Not only is this delicious, but it's a much healthier version of the standard apple pie – each apple has less than 300 calories and only 9 grams of healthy fat. Enjoy!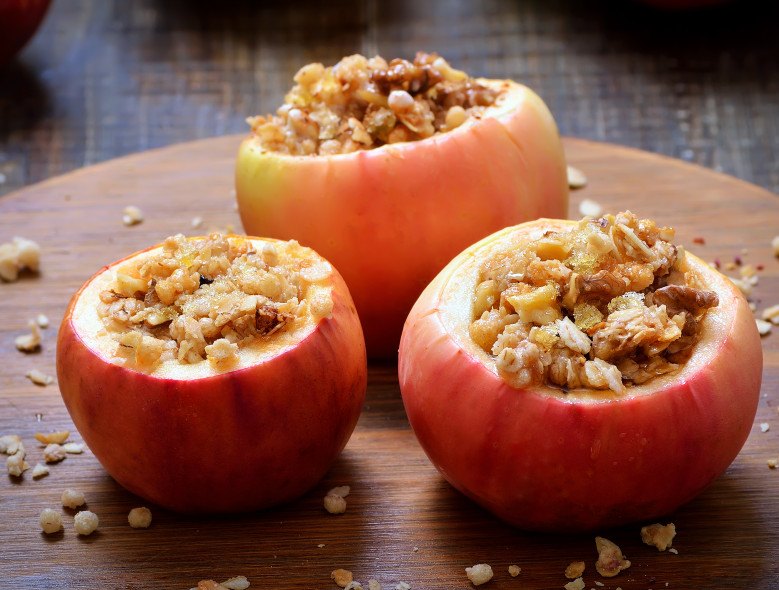 INGREDIENTS
• 3 large Fuji apples (or your favorite baking apple)
• 1/3 cup oats
• 2 tbsp coconut flour
• 2 tbsp chopped walnuts
• 1/2 tbsp cinnamon
• 1/8 tsp sea salt
• 1/3 cup egg whites
• 3 tbsp granulated stevia (or your preferred sweetener)
1 tsp vanilla extract
• 1 tbsp (3 tsp) coconut oil
• 1 tbsp (3 tsp) honey

PREPARATION
• Preheat oven to 375°F.
• Boil a pot of water (to be used later to fill the bottom of the baking dish).
• Remove apple cores leaving 1/2 inch of flesh around all sides, including the bottom of the apples. (If you don't have an apple corer, carefully use a knife)
• In a small bowl, combine oats, flour, walnuts, cinnamon, salt, whites, stevia, and vanilla extract. Mix well. Set aside.
• Place apples upright in a baking pan.
• Evenly scoop the filling mixture into each of the apples. Top each with 1 tsp. of coconut oil.
• Add boiling water to the baking pan until there is approximately 1/4 inch of water in the pan.
• Bake for 40 minutes, or until tender and golden brown. Remove from the oven and let sit approximately 10 minutes before serving. Top each with 1 tsp. of honey. Enjoy!
NUTRITION INFO
(Per apple – recipe makes 3)
285 calories, 6g protein, 44g carbs (7g fiber), 9g fat
RELATED CONTENT
Fit Fixins: Low-Fat Shepherd's Pie
Fit Fixins: Eggplant Pizza Rounds
Fit Fixins: Banana Nut Overnight Oats
Fit Fixins: Grilled Shrimp Tacos
Fit Fixins: Gingerbread Heart Cookies
Fit Fixins: Pumpkin Spice Pancakes
ABOUT ALLISON FRAHN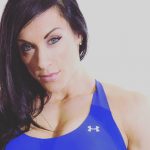 Allison is a five-time IFBB Figure Olympian who has a passion for healthy, yet delicious cooking. Allison owns Alli's Slim Pickins, Inc., a healthy food and recipe-based company. She is excited to share her years of experience with you and provide healthy recipes that proclaim her slogan: 100% Taste & 0% Guilt.
Want more recipes? Purchase Ali's recipe e-book here!