Sometimes just the change in presentation can make a food that you eat all the time taste so much better! A perfect example of this is scrambled eggs vs. a beautiful stuffed omelet.
Omelets are so versatile; you can truly add whatever ingredients that you wish. My favorite addition is sautéed veggies because they are super low-calorie, beautifully colored, and add amazing flavor. You can use whichever veggies you prefer, but here is a good suggestion to start.
Enjoy!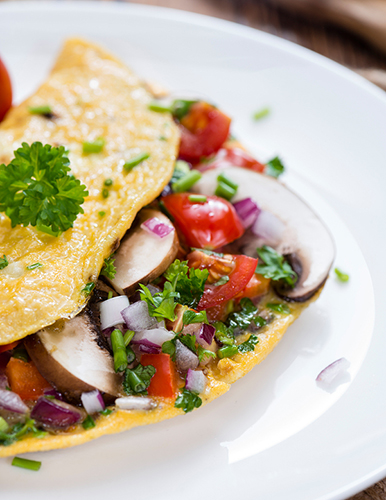 INGREDIENTS
• 4 egg whites
• 1 whole egg
• 1 oz. low-fat shredded mozzarella
• 2 baby portabella mushrooms, finely sliced
• 3 cherry tomatoes, quartered
• 1/4 red bell pepper, finely diced
• 2 tbsp red onion, finely chopped
• 1 sprig parsley, finely chopped
• 1 tbsp Balsamic vinegar
• Garlic powder
• Salt and pepper, to taste

PREPARATION
• Whisk together the egg whites and the whole egg until well mixed. Set aside.
• Spray a skillet with non-stick cooking spray and add mushrooms, tomatoes, bell pepper, and onion. Sauté for approximately 3 minutes over medium heat just until veggies slightly soften, stirring frequently.
• Add parsley, balsamic, garlic, salt, and pepper and stir to combine. Sauté for an additional minute and then remove from heat and transfer veggies to a plate.
• Give the skillet a quick rinse and spray with non-stick cooking spray. Add the egg mixture and place over medium heat.
• Allow the egg to cook, lifting the pan and swirling to evenly cook in a single layer. Once the eggs are almost firm, sprinkle on the mozzarella cheese in an even layer.
• Once the eggs are cooked to your desired firmness and the cheese is melted, add the veggie mixture to half of the omelet. Flip the non-veggie side over the veggies to form your omelet.
Serving Options: serve with fresh fruit, a bowl of oatmeal, or just a plain old big cup of coffee. Enjoy!

NUTRITION INFO
(Per omelet; recipe makes 1)
230 calories, 27g protein, 15g carbohydrates (1g fiber), 7g fat


RELATED CONTENT
Fit Fixins: Tuna Poke
Fit Fixins: Dessert Fruit Pizza
Fit Fixins: Low-Carb Italian Pasta Salad
Fit Fixins: Oatmeal Raisin Breakfast Cookies
Fit Fixins: Grilled Vegetable Flatbread Pizza
Fit Fixins: Flank Steak Pinwheels
ABOUT ALLISON FRAHN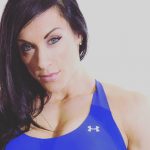 Allison is a five-time IFBB Figure Olympian who has a passion for healthy, yet delicious cooking. Allison owns Alli's Slim Pickins, Inc., a healthy food and recipe-based company. She is excited to share her years of experience with you and provide healthy recipes that proclaim her slogan: 100% Taste & 0% Guilt.
Want more recipes? Purchase Ali's recipe e-book here!