I absolutely LOVE helping people learn how to live fitter, healthier and – hopefully – happier lives.
Watching them set and reach their goals, and gain confidence along the way that filters into other parts of their lives, is so incredibly rewarding.
Belinda Smith is one of those people whose journey has been truly inspiring for me.
A year ago, at 35 years old, Belinda weighed 275 pounds. She was at a point where she knew she need to make a change in her life. She just didn't know what that was at the time.
Belinda went to see a doctor, who recommended gastric bypass surgery. Belinda left knowing that wasn't the answer.
"I was eating fairly healthy foods but way too [large] portions, and I wasn't exercising at all," Belinda remembers. "I had pain in my leg and [it was] just laziness, really. There was nothing wrong with me. I just needed some structure."
Knowing nothing about nutrition, or how to exercise, Belinda was starting from ground zero.
She tried another program that wasn't right for her. But as luck would have it, Belinda saw an ad for my 2018 40 Day Summer Shred Challenge and decided to take a leap of faith and enter.
"To come in and do your Challenge was really eye opening," Belinda says. "I was at a point where I had to do something. I basically would just work, and then go home and sit on the lounge and watch tele."
Belinda gave that first Challenge everything she had. And wow did it pay off! In just 40 days, she lost an amazing 35 pounds and 20 total inches to finish as one of the Challenge Runner Ups!
Ready for your transformation? Enter my 60 Day Total Body Transformation Challenge today and start you own success story today!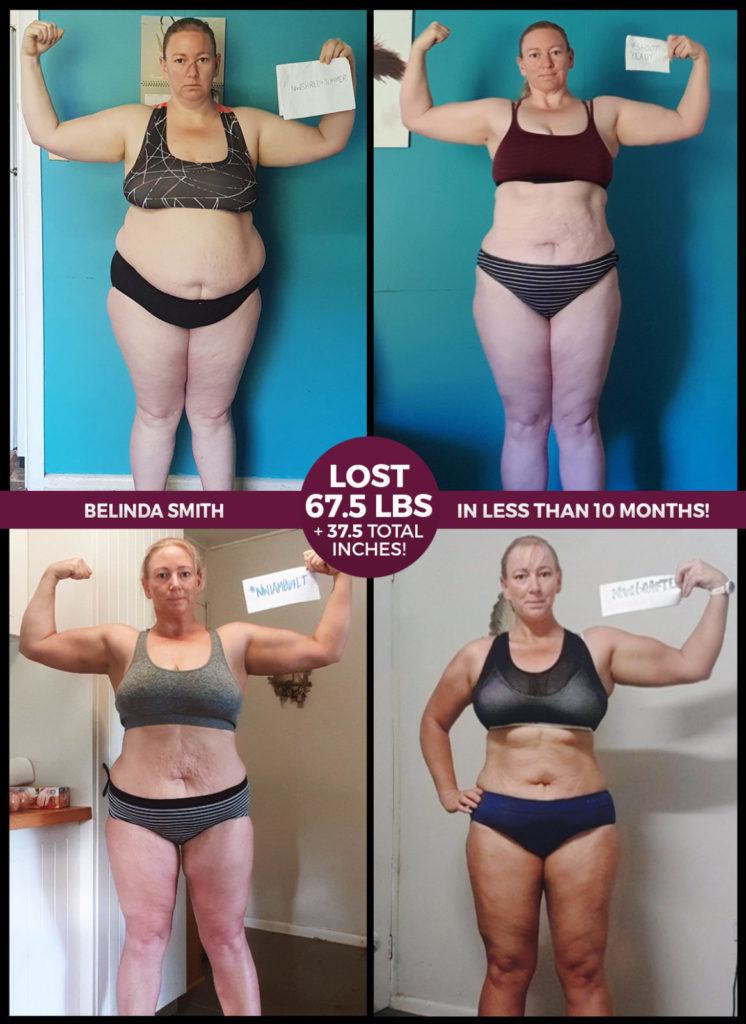 What's so awesome about Belinda's story, though, is that she didn't stop there. Over the past year, Belinda has entered every one of my Challenges.
Her dedication and commitment to herself paid off in a big way earlier this year when she was selected as the Grand Prize Winner of my 60 Day Total Body Transformation Challenge!
At the end of that Challenge, roughly 10 months since entering her first one, Belinda lost almost 68 pounds and nearly 38 total inches. In less than a year, Belinda has completely transformed her physique and changed her life for the better!
I am so proud of Belinda and so happy for her. Her journey is so inspiring for me!
If you're as motivated by Belinda's incredibly progress as I am and wondering how you can possibly possibly join her – and the thousands of others who have changed their lives through my Transformation Challenges, you're in luck!
Signups for my 2022 60 Day Totally Body Transformation Challenge are going on RIGHT NOW!
The Challenge starts on January 10, and the last day to sign up is January 9.
All you have to do is go here to find out more information and enter today – I know we can reach your goals together for 2022!