'Tis the season to be jolly – and the season where the fitness-conscious among us try not to go overboard with the assortment of tempting goodies at all of our holiday get-togethers.
That's why it's a good idea to "sneak" in some healthier foods whenever we can … especially when we don't have to sacrifice taste! I'm constantly looking for ways to eat "more" without taking in a lot of calories. One of the keys to this is to add low-calorie/bulk foods to your more calorie-dense foods to create volume.
This Reduced Carb Whipped Mashed Potatoes recipe is a perfect example of that, since it combines potatoes with cauliflower for a healthier version of traditional (carb-heavy) mashed potatoes. The best part – you can barely tell the difference!
Enjoy!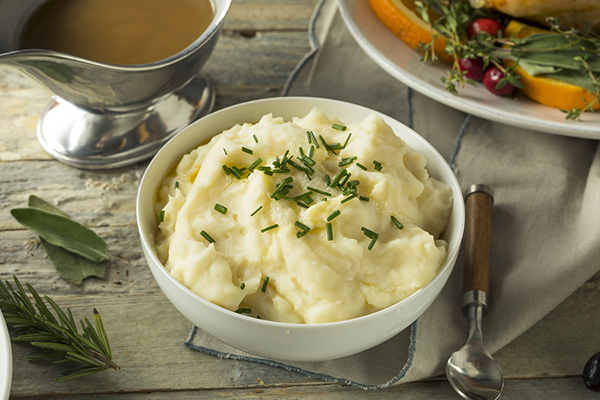 INGREDIENTS
• 4 cups chopped fresh cauliflower
• 2 medium Yukon Gold potatoes, peeled and cubed
• 1/3 cup light sour cream
• 1 tbsp coconut oil
• 1 tbsp light butter
• Salt and pepper, to taste
• Chopped fresh chives (optional)

PREPARATION
• The key here is to drain the cauliflower extremely well to get a lot of the water out, so I cook the cauliflower ahead of time to allow for this.
• Put water into a pot to fill it approximately 1/4 inch and place over medium heat. Add cauliflower and cover with a lid to steam.
• Let cook for about 10 minutes or until extremely tender. Remove and drain in a colander for at least 3 hours (the longer the better). Once the cauliflower has fully drained, take a kitchen towel and gently pat to squeeze out any excess water. Transfer to a bowl and set aside.
• Put cubed potatoes into a pot and cover with water and a pinch of salt. Place over medium heat, bring to a boil, and cook for approximately 15 minutes or until potatoes are tender. Remove from heat and drain the potatoes in a colander.
• Now, add the cauliflower, potatoes, sour cream, coconut oil, salt, and pepper to a food processor (this makes for the best consistency, but if you don't have a food processor you can use a hand blender) and whip until smooth.
• Transfer to a serving bowl and top with 1 tbsp of light butter and some fresh chives. Wait until you see how big the portions are – enjoy!

NUTRITION INFO
(per serving; recipe serves 4)
178 calories, 4g protein, 26g carbohydrates (4g fiber), 6.5g fat

RELATED CONTENT
Fit Fixins: Almond Butter Protein Bites
Fit Fixins: Crispy Apple Cinnamon Chips
Fit Fixins: Frosted Carrot Cake Overnight Oats
Fit Fixins: Skinny Butternut Squash Fries
ABOUT ALLISON FRAHN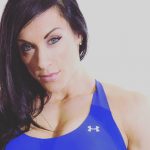 Allison is a five-time IFBB Figure Olympian who has a passion for healthy, yet delicious cooking. Allison owns Alli's Slim Pickins, Inc., a healthy food and recipe-based company. She is excited to share her years of experience with you and provide healthy recipes that proclaim her slogan: 100% Taste & 0% Guilt.