Stuffed peppers usually have a spicy Mexican-style filling – but not today, my friends. We're changing it up with this absolutely delicious high protein alternative to enjoy your breakfast egg(s) – fashioned in this adorable red pepper "cup." Even better: they are a cinch to make with very little cleanup. Enjoy! ?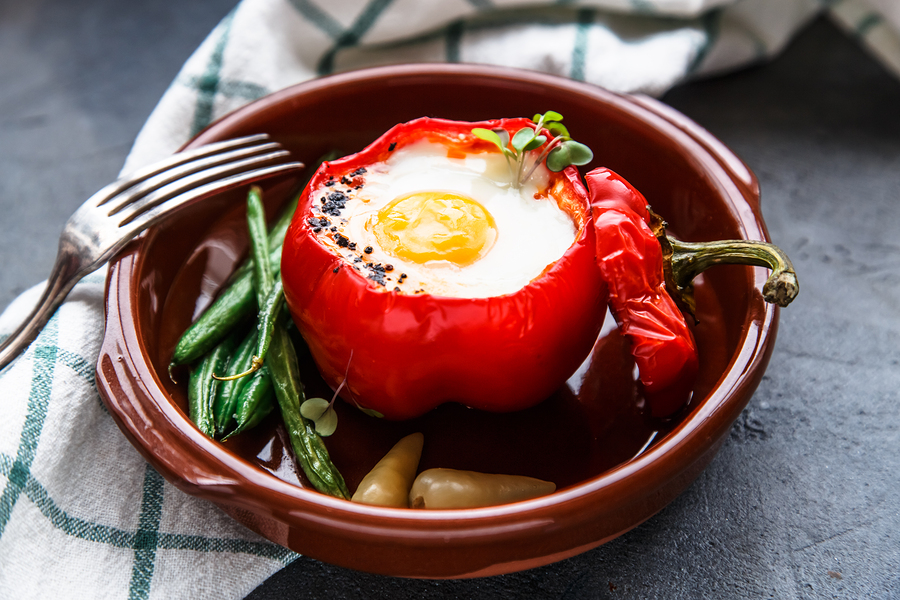 INGREDIENTS
• 2 tsp coconut oil
• 6 oz 99% lean ground turkey
• 1 cup spinach leaves
• 1/4 cup mushrooms, diced
• 1/4 cup onion, diced
• 1/2 tsp fennel seeds
• 1/4 cup shredded low-fat mozzarella cheese
• 2 whole eggs
• 2 red peppers
• salt and pepper
PREPARATION
• Preheat the oven to 400 degrees.
• Slice top off each pepper to form your cups for the filling. Put peppers on a baking sheet open side up. Set aside.
• Heat skillet over medium-high heat and melt coconut oil.
• Add onion and mushrooms and cook for about 5 minutes, or until fragrant and golden brown.
• Add ground turkey, salt, pepper, and fennel seeds, and cook for an additional 5 minutes or until turkey is no longer pink.
• Add spinach leaves and cook for one more minute.
• Divide the mixture in half into each of the pepper cups. Layer each with 2 tbsp of mozzarella cheese and then crack 1 egg over the top of each pepper.
• Bake for about 20 minutes or until peppers are tender and eggs are firm. Enjoy!
NUTRITION INFO
(Per pepper; recipe makes 2)
305 calories, 33g protein, 16.5g carbohydrates (5.5g fiber), 12g fat

RELATED CONTENT
Fit Fixins: Grilled Lamb Kebabs
Fit Fixins: Mexican Style Chicken Stuffed Sweet Potatoes
Fit Fixins: Acai Fruit Smoothie Bowl
Fit Fixins: Sweet N' Spicy Chicken Meatballs
Fit Fixins: Ham & Pineapple Breakfast Pizza

ABOUT ALLISON FRAHN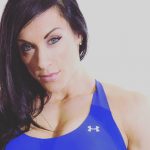 Allison is a five-time IFBB Figure Olympian who has a passion for healthy, yet delicious cooking. Allison owns Alli's Slim Pickins, Inc., a healthy food and recipe-based company. She is excited to share her years of experience with you and provide healthy recipes that proclaim her slogan: 100% Taste & 0% Guilt.
Want more recipes? Purchase Ali's recipe e-book here!