As if you ever needed a reason to not skip breakfast … well, I'm going to give you one more!
Two words: Carrot Cake – YES!- for breakfast. And it's super healthy!
The best part is that there's no messy clean up, or baking, or anything complicated; in fact, all you have to do is assemble it and it prepares itself on it's own! Dessert for breakfast…enjoy!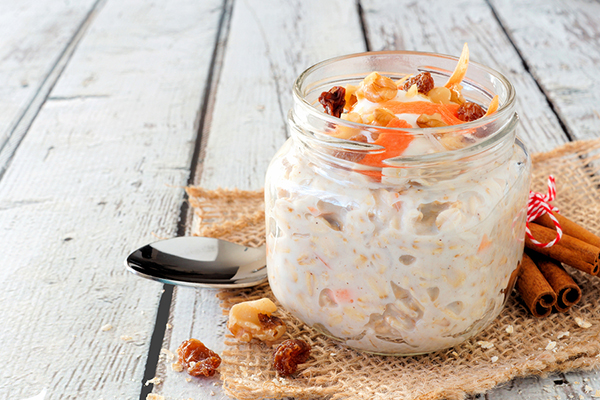 INGREDIENTS
• 1 cup oats
• 3/4 cup unsweetened coconut milk
• 1/3 cup finely grated carrot
• 1/4 cup nonfat Greek yogurt
• 2 tbsp raisins
• 2 tbsp chopped walnuts
• 2 tbsp granulated stevia (or your preferred sweetener). Use more if you like it on the sweeter side.
• 2 tbsp low-fat cream cheese
• 1/2 tsp ground cinnamon
• 1/4 tsp vanilla extract
• 1/4 tsp coconut extract
PREPARATION
• Mix all ingredients together until very well blended. Put into a mason jar or your favorite dish (I prefer using a mason jar).
• Refrigerate overnight.
• That's it! Grab a spoon and dig in. Enjoy!
NUTRITION DATA
(Per serving;recipe serves 2)
305 calories, 11.5g protein, 42g carbohydrates (5g fiber), 10g fat


RELATED CONTENT
Fit Fixins: Skinny Butternut Squash Fries
Fit Fixins: Zucchini Cheesy Waffles
Fit Fixins: Peanut Butter Chip Oatmeal Cookies
Fit Fixins: Sunny Side Portobello Mushrooms
Fit Fixins: Skinny Shrimp Scampi
Fit Fixins: Fresh Raspberry Lime
ABOUT ALLISON FRAHN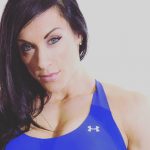 Allison is a five-time IFBB Figure Olympian who has a passion for healthy, yet delicious cooking. Allison owns Alli's Slim Pickins, Inc., a healthy food and recipe-based company. She is excited to share her years of experience with you and provide healthy recipes that proclaim her slogan: 100% Taste & 0% Guilt.