It's time to announce the winners of the 10 Week Photo Shoot Ready Challenge!  
Following a structured training and nutrition plan isn't easy – especially when it's 10 weeks long!  It takes some incredible determination and drive to follow a program like this until the end.
So I would like to offer a HUGE CONGRATULATIONS to everyone who participated and stuck with it until the end! 
These Challenges aren't about comparing yourself to anyone else – they are about striving to improve individually, and dedicating yourself to being better than you were yesterday.
If you were able to do that, then you are already a winner in my book! I hope you continue to build on the progress you made, and the healthy habits you were able to develop. 
If you're wondering when my next Challenge is, you're in luck – signups are going on now!  My 40 Day Build Challenge starts this coming Monday (signups end on Sunday night). 
And just like this last one, we will be giving you THREE different training programs to choose from – meaning you can do EVERY SINGLE ONE of these workouts from home! 
All you need to follow every at-home workout is:
• A set of light dumbbells (for isolation exercises like bicep curls)
• A set of heavy dumbbells (for exercises like rows or bench presses)
AND THAT'S IT! 
Of course, if you have more equipment, of if you are back training at the gym, that's great too. The programs are interchangeable, so you can mix it up by following whichever one you want on any given day.  
So if you to be a part of an awesome community that will help you stay on track towards reaching your goals – plus have a chance to win over $5000 in prizes! – then check out my 40 Day Build Challenge.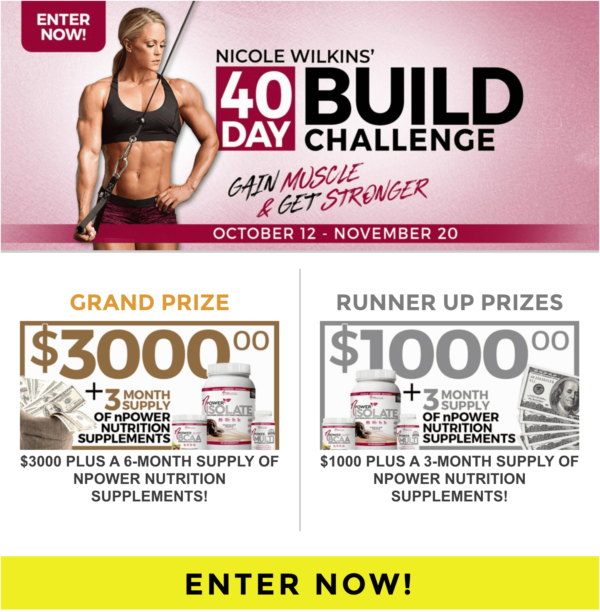 But first, make sure to check out these AMAZING winners from my 10 Week Photo Shoot Ready Challenge for some instant inspiration! 😍
So congratulations to all of these INCREDIBLE winners, and to everyone else who participated in this Challenge 💪
In selecting the winners, the NW Fitness Group judges review all Before/After photo submissions. We narrow the entrants down to a list of finalists, and then each judge scores their top five finalists accordingly:
1st place – 10 points
2nd place – 8 points
3rd place – 6 points
4th place – 4 points
5th place – 2 points
We then take the totals from the five individual judges and select the winners … and here they are! (click on an image to enlarge)
GRAND PRIZE WINNER: Alicia Foster 
Alicia lost 15 pounds and 16.5 total inches! She wins $5000 and a three-month supply of nPower Nutrition Supplements!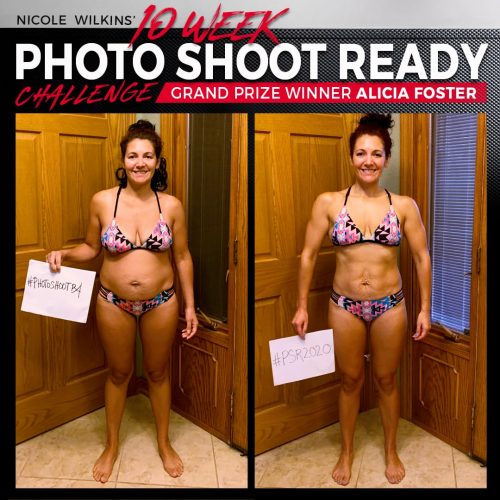 RUNNER UP: Ashley Gosselink
Ashley lost over 22 pounds and over 14 total inches! She wins $1500 and a three-month supply of nPower Nutrition Supplements!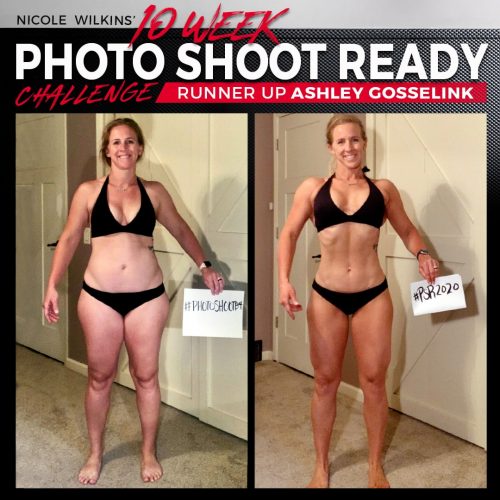 RUNNER UP: Christopher Halsey
Christopher lost 21 pounds and 9.5 total inches! He wins $1500 and a three-month supply of nPower Nutrition Supplements!